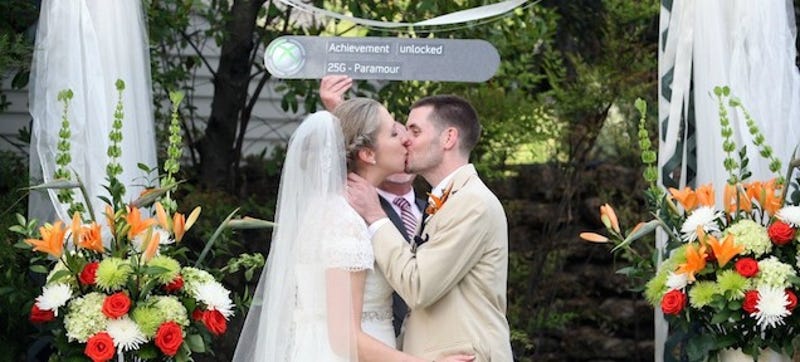 Meet Kristin and Zachary. They're a geeky couple who love each other and geeky things so it was fitting that they decided to have the geekiest wedding ever. How geeky? How about Nintendo cartridge invitations. Doctor Who shoes. A Star Wars guestbook. A Lego cake. Butterbeer. An Xbox achievement for the first kiss. And…
When I was a kid, I had a computer lab teacher who'd always say she had a pink whip ready for when students missed assignments. I can say for sure that she and Etsy-er feralswirl might hit it off. [Geekologie]
The Pi Necklace lists the first 100 decimal places of everyone's favorite irrational number, pi. It's the perfect accessory for Pi Day, or any other day, for that matter. [RGB Laboratory via Craziest Gadgets]
Yesterday we asked you to submit your geekiest Halloween costumes—clearly, Halloween is dominated by nerds far too old to trick-or-treat. It was also clear that mdg357's homemade Iron Man suit was more than deserving of the free pizza. UPDATED:
Looking for something to decorate your fridge with this V-Day, here's magnets of men weeping. Maybe it's just me, but if I really wanted to see grown ass men cry, I'd just start dating again.
Here's something from 2004 worth bringing up again as it circulates the blogs. I am guessing that wedding bands featuring male and female 8P8C Ethernet connectors have a somewhat limited demand. I mean, sure I have met geeks that would be right into this, but never a pair of them, though the fact that they are sold…
If you want to wear fandom on your sleeve without going all Star Wars t-shirt on us, then you might want to pick something a little more subdued and cerebral. But still, you know, dorky. If you want to come out about your science fiction love to the world, there are a few cool indie t-shirt designers out there to help.
Recycling circuit boards for use as everyday, decorative objects is nothing new—but you have to hand it to a guy who takes the concept this far. Although, I doubt that you would be pulling in a lot of tail rollin' down the street in a circuit-board-covered beater with Thomas Dolby blaring on the radio. [Nerdcore via …