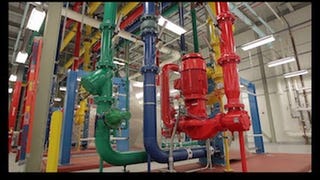 Is there any more form of democratic dissent more American than the lunatic militia conspiracy? Four Georgian geezers are in deep federal shit after being apprehended for a convoluted plan to kill lots of people. Airplanes, poison, and explosives.
Ass was pretty bad, but the global 8th grade iPhone 4S giggle-fest continues. Georgian Gizmodo reader Shota (from the country, no the state, homie) says "siri" is the Georgian word for "cock." Not the bird. This should be good.
She didn't mean anything by it. But while a 75-year old woman set out to collect scrap metal in the village of Ksani last week, by the time she got home she'd cut off internet service to both Georgia and Armenia.
The thought of going someplace even colder than where I am now sounds awful, until I see the new wing of Mestia, Georgia's airport. The frigid terrain doesn't look too inviting, but the terminal's space station design sure does.
Remember when news came out that Russia had begun their military campaign in South Ossetia with a
far-reaching hack attack
on Georgia's government computer systems? Well, security experts are still having a hard time figuring out exactly what happened, who was responsible, and whether it could happen again. Now, is…
Coinciding with the conflict in South Ossetia, the Georgian government is claiming they have
lost control
of many, if not all, of their governmental web sites and are incapable of using them to update its citizens or the international community. The blog is claiming to be an unofficial spokesman for the Georgian web,…
Apparently the latest twist in an ongoing tussle over separatist Abkhazia, this video shows an "unarmed, umanned aerial vehicle" belonging to the Georgian Interior Ministry performing "basic reconnaissance over Georgian territory," according to the Georgians. Whether or not you believe the details in that statement,…