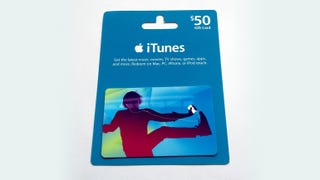 Today's Best Buy daily deal is amazingly good: it's offering up $50 iTunes gift cards for just $40, including free shipping.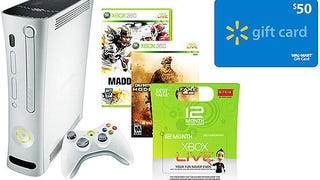 If you're thinking about getting a PSP Go, then head to Amazon before midnight PST/3:00AM EST tonight. No, the PSP Go's $245 price tag hasn't changed, but you will get a $50 gift card for Amazon's PlayStation Network store.
A Kotaku tipster supposedly took a screenshot of a Walmart computer displaying a deal that throws in a free $100 gift card with purchase of the $200 Xbox 360 Arcade system. It also shows a Sony Blu-ray player for $149.
Is it a gift card with a digital camera, or a digital camera with a gift card? We're not quite sure, but this holiday season, Target will begin selling a combo gift card/digital camera, giving customers something to do with their gift certificate other than just spending it while being insulted that a loved one didn't…
That deal where you get a $100 Wal-Mart gift card when buying a Blu-ray player is even better than we thought. If you buy a PlayStation 3 (including the Metal Gear Solid 4 bundle) between June 8 and June 14, you'll qualify for that hundred bones. This deal looks even better than the last one, seeing as the $100 gift…
As a result of Sharper Image's bankruptcy filing earlier this week, the company's decided to stop accepting gift cards until they can get their finances in order. That really sucks for you if you just received a Sharper Image gift card for Christmas '07, but it really sucks for people who returned merchandise and…
So, in other words, get $60 at the iTunes store for $45. Best Buy is currently running this promotion, and it could be good if you have a lot of gifts to give out soon (Easter baskets?) or it could be a good if you are a rabid iTunes shopper who wants a free $15 courtesy of Best Buy. Beatles fans need not apply, yet.