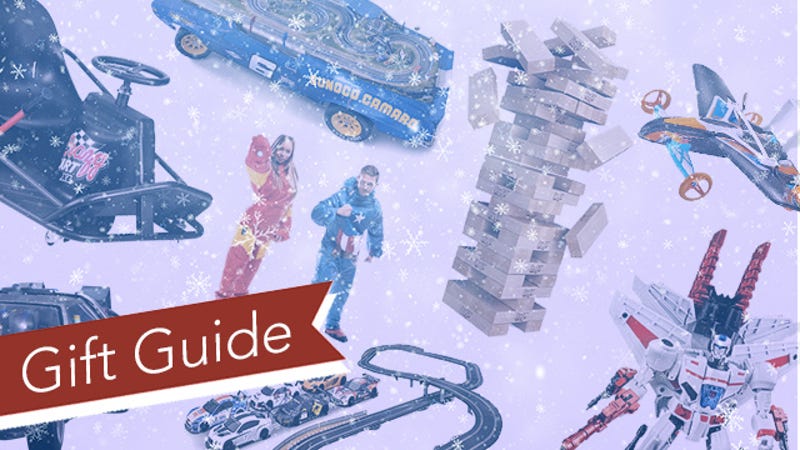 There's no shortage of gift ideas for kids when the holidays roll around, but what if you've got a couple of adults on your Christmas shopping list who still have an affinity for toys? They've probably outgrown a stocking full of Hot Wheels vehicles, so here are some more grown-up suggestions for adults who never…
What do you get for the paleofuturist who has everything? Forget the boring book and DVD sets. How about a real flying car? Or a robot butler? These paleofuturistic wonders can all be yours! Provided you have a few hundred thousand dollars lying around.
Jingle, jingle, everyone! Throw on Mariah Carey's "All I Want for Christmas" and bust out the nativity. The holidays are officially upon us—Apple has released its holiday gift guide. Oh my god, I can't stop squealing! Wait actually though, it's just the Apple Store with more red font.
The reason you should read this Wirecutter post about giving gifts to geeks isn't the list. It's the anecdote at the beginning. It's like the secret to getting into any supermodels' underwear, but like, about buying presents. So, sort of the same.
Mr. Skin, champion of celebrity nudity and high-def video alike, put together a gadget gift guide with that site's readers in mind. It's kind of funny, kind of creepy and oddly professional, all at the same time.
We've more or less spared you guys from cliched "top 10" gift guide hell—Bestmodo tag and our separate Giftmodo site aside—but some people like that kind of thing. Scouring through actual, dead-tree magazines, over at Slate, our own do-it-all Brendan Koerner lifts and separates the fruitcakes from the peppermint…
If you are anything like me, the women in your life are impossible to shop for. However, if you are lucky enough have a lady in your life that enjoys gadgets, Geeksugar has put together a guide that will help you find the perfect gift for girlfriends, moms, and teen girls. They even have a section devoted to…
While it is no surprise that everyone and their mother is putting out a gift guide during the holidays, the problem is that most of these guides are basically the same. It is not that they aren't useful—many are quite comprehensive, featuring the most popular gadgets today. But what if you are not interested in…
Looking very Gucci-like but selling for a reduced price of about $200, the Andrea Valentini laptop bag is certainly a good gift idea for the lady (or REALLY fashionable guy) on your holiday list. The company says it's inspired by an egg, though I guess they really mean egg crate, and it's made of a lightweight,…
Now s here s a great gift idea for that special person in your life. From the folks at Banana Design Lab comes My Beating Heart. This wholesome-looking heart resembles all the stuffed animals you ve ever had, but with one small difference: the heart beats. Yes, so now on those cold winter nights you can hold the…