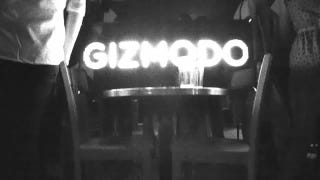 Gizmodo just turned 10 and last night we celebrated with meetups all over the map. And it was a blast and a half.
The best thing Gizmodo has ever published was Joel Johnson's "Bias Journalism" post. It was just so damn honest. So heartfelt. So well-written. The language is beautiful and evocative and brutal. Oh so brutal! And it's also just so Gizmodo.
To celebrate Gizmodo's tenth birthday in the UK, we're partying at The Jame Factory in Oxford. Given that Gizmodo is a US-based website, how will it play out? This is the live blog of how it's going.
Like any good nerdlinger, Simon Pegg is one of my favourite actors. It just so happens that I frickin' hate the unnecessary gimmick that is 3D too, so when I spotted Pegg mouthing off in a 10-tweet tirade (sample: "3D used in films not aimed at children is like seeing someone you respect trying too hard. Like…
Gizmodo is officially 10 years old! And, while we've been celebrating this all week, I thought it would be fun (and/or funny) to take a look back at the ancestor gadgets we would all be using if someone were to turn the dial back, way back, all the way back to 2002.
Founding editor Peter Rojas gave birth to Gizmodo, but Joel Johnson changed its diapers in the early days. Ten years on, the site still shows traces of Joel's unmistakable voice and editorial judgment. Gizmodo recently contacted Joel to demand an explanation.
There was a time before Gizmodo existed. It wasn't even in the primordial ooze of the internet, either. It was just 10 years ago. But even that recently, a blog specifically dedicated to technology was a pretty radical concept. Here's how a guy named Peter Rojas started it off.