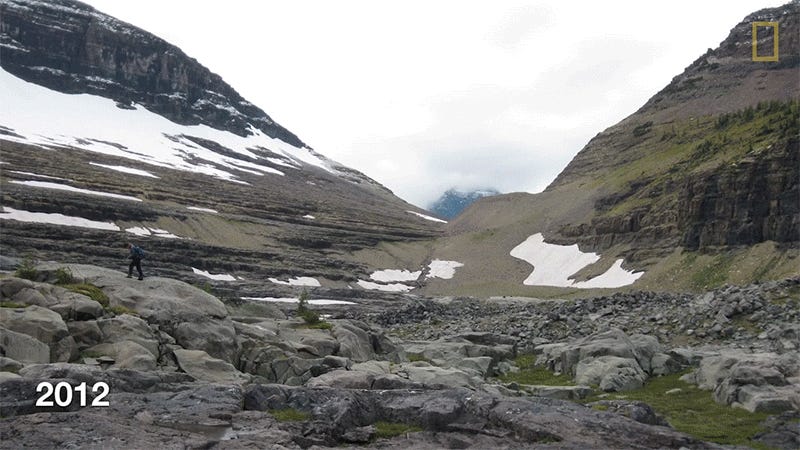 Global warming is melting the world. Here are photos collected from the USGS that shows how Glacier National Parks—once home to 150 glaciers in Montana and now down to only 25—has changed over the years. Ice basically disappears in these before and after photos. In fact, you can see serious change from just two years…
The retreat of Arctic sea ice has been so dramatic over the last few years that atlases are being changed. Now it turns out Greenland's ice sheets are also melting faster than we thought—not on the visible surface, but due to currents deep below the ocean.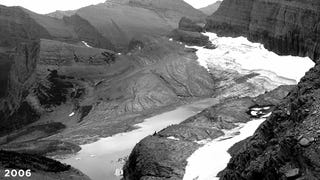 When Glacier National Park was dedicated in 1910, this stunning span of the Rocky Mountains on the Montana-Canadian border counted over 150 thick, morphing ice sheets that gave the park its name. One very warm century later, there are only 26 glaciers here. And by 2030, scientists warn, that number could be zero.
Photographer Aaron Huey, who is on assignment for National Geographic, recently shared a picture of a frighteningly deep hole on the Lower Ruth Glacier. The only thing stopping people from plummeting down the 1000 feet drop into the ground is a sheet of ice. One crack, though.
Two and a half miles under the Earth lies Lake Vostok, which hasn't seen the light of day in 20 million years. It's taken almost 20 years of drilling, but Russian scientists are about to break through and explore the lake at the bottom of the world.