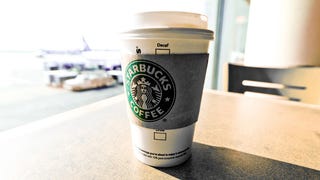 Think you're going to pay for Starbucks with your shiny new Apple Watch this evening? Think again. Starbucks computers are down across North America, and some stores are giving out free coffee in the meanwhile. I certainly enjoyed mine!
Something at Twitter has gone horribly, hilariously wrong: The social media site has unceremoniously declared us all to be robots. Well, maybe not all of us, but more than a few folks on Gizmodo staff as well as dozens of users across the web. Affected users trying to Tweet from Twitter's web client are being told…
GL II I I I I TCH. Sometimes a glitch is a catastrophe, yes, but sometimes these mistakes are beautiful. For this week's Shooting Challenge, you explored the photographic celebrations of the glitch.
In what has to be one of the biggest Indian giver moves ever, Danish state run lottery company Danske Spil notified 300 people via email that they just won billions in the lottery... only they really didn't. They were only notified because of a glitch in the system, meaning for half an hour 300 people thought their…
Based a a number of complaints posted on the Roku customer forum, it appears that their little $99 Netflix streaming device has spontaneously suffered from a serious drop in video quality.