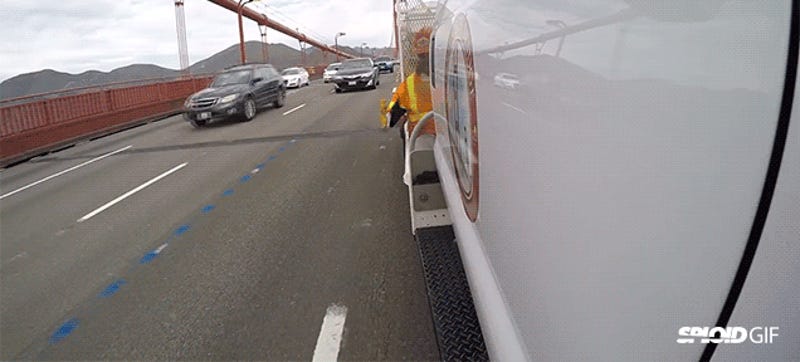 Why don't they have a 24-hour channel of humans doing repetitive or crafty work? It would be the perfect thing to watch when you want to relax. Like this dude putting pylons on the Golden Gate bridge. He should have his own two-hour program every week. Updated.
After a marathon weekend installation, the Golden Gate Bridge has finally gotten the $3o million movable median barrier system that it so desperately needs. These are the oversized mechanical zipper pulls that will be in charge of changing lanes (quite literally) twice a day to keep traffic flowing smoothly.
More people have committed suicide on the Golden Gate Bridge than on any other structure in the world—someone jumps from the bridge to their death about every two weeks. But those figures could be dramatically reduced if a proposed suicide-prevention barrier is installed later this year, as advocates hope.
It's easy to forget how beautiful the world is when we shackle ourselves inside all day. Maybe on the weekend we'll take a hike, we say. Maybe next month we'll make a trip out to the woods, we plan. But even if we do all that, we still don't see it enough. Good thing photographers like Brian Donovan are capturing the…
For years, San Francisco's iconic Golden Gate Bridge was a deathtrap. Cars would zip past one another at 65 MPH, separated by a thin line of yellow traffic cones, and head-on collisions were routine. However, a new barrier system—laid by a massive vehicle known as a Zipper Truck—will keep passing drivers from landing…
The Golden Gate Bridge is receiving what its caregivers call a major renovation. The task involves repainting the two main suspension cables; something that will take years to complete and is the first such work done to the cables since the bridge opened in 1937.