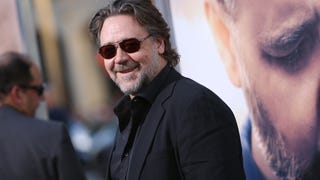 Phone-throwin' bloke Russell "Maximus Decimus Meridius, commander of the Armies of the North, General of the Felix Legions and loyal servant to the TRUE emperor, Marcus Aurelius. Father to a murdered son, husband to a murdered wife" Crowe took a stance yesterday against the BOGANS of Virgin Australia for confiscating…
Star Trek creator Gene Roddenberry really wanted us all to wear Spandex in the future. Smelly, smelly Spandex.
For most people, summer means action-packed sci-fi/fantasy blockbusters, but for us skin mongers, summer brings a lot of sci-fi/fantasy porn parodies. Since "X-Men: First Class" just hit theaters and "This Ain't Ghostbusters XXX" recently showed up in our mailbox, we… [
Fleshbot
]
Sprint's decision to ditch mail-in rebates (starting on March 27) is probably one of the nicest things a mobile provider could do. Instead, they'll replace the rebates with instant savings for "an unspecified period of time." [BGR]
The idea-centric brains at Nokia Beta Labs have been working hard on some cool ideas for video recording on smartphones. Like this automatic bookmarking feature, where a shift in scene creates a new chapter in a video without ever cutting.
Two awesome things are happening with Google's search engine. First, Google is finally going after the content farms that flood their search results with posts that care more about SEO than content. Wanting to filter that noise out, Google is pushing forward a new search algorithm which identifies posts from those…
It's Saturday. You should be doing nothing. But if you're reading this, you're probably engaged win a marathon session with your RSS reader. That's why you need to rest, if only for two minutes. Just click this link.
Need some good book recommendations? Bloggers posted 73 awesome ones yesterday. Young-adult author Elana Johnson sparked a meme called "Spreading The Awesome", encouraging people to post about "ten-star books." The list, including Orson Scott Card and Brandon Sanderson, is here.
There are two things I don't like when I wake up in the morning—looking across the room at the alarm clock on my desk, and sitting up to make sense of it. This timepiece acknowledges both issues.
We like
Ericsson's idea for the original Tower Tube
—take something as ubiquitous and ugly as a cell tower and add a touch of nice design and a streamlined manufacturing process that saves money and energy. Now they're taking the idea in another cool direction by adding a four-blade vertical wind turbine to the…