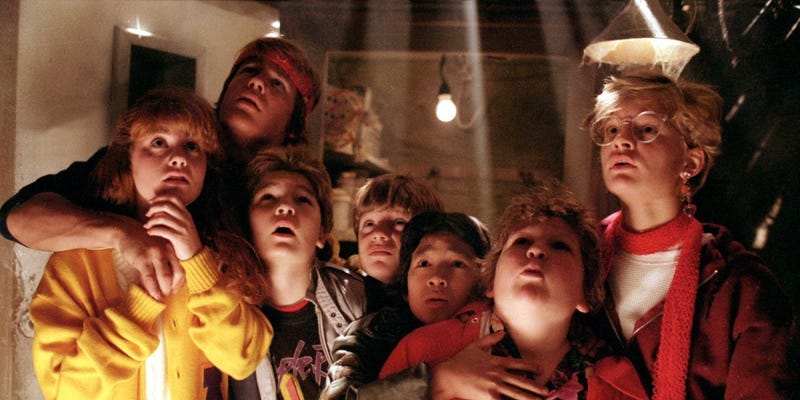 We are living in an age where everyone wants to be The Goonies. Why? Because Goonies is the best goddamn movie ever made (probably). Even if it isn't the best movie ever made, Hollywood certainly loves referencing it, along with all the other nostalgic Amblin movies of their youth. And it's probably time to stop.
The Goonies will turn 30 years old in 2015 and builder Lyonsblood is ready for his recreation of One-Eyed Willy's ship, The Inferno, to make it to the decision phase of the Lego Ideas process. I have no doubts that it will be put over the 10,000 supporter threshold in the coming week.

If the sequel to the 1985…
The influence of classic Spielberg movies is all over Earth to Echo. The plot is lifted from E.T., but the movie also borrows heavily from Goonies and other 80s movies about kids hanging out. But stylistically, this movie borrows nothing. In fact, it shows how to conjure the "80s kid movie" vibe without wallowing in…
It's been a long time since someone mentioned the possibility of Goonies 2, but original director Richard Donner told TMZ it's still moving forward. Last we heard, it will feature the original cast as adults with their own kids who — and I'm going out on a limb here — might get into their own adventure.
Everybody wants to recapture the glory days of 80s movies these days. Everywhere you look, they're remaking 80s classics or paying homage to the motifs of the Reagan era. But there's still something about the 80s that remains unique and special. Here are 10 things movies were good at in the 80s that they struggle at…
The classic Teenage Mutant Ninja Turtles are being totally reinvented for a new animated series... but in a good way. Yesterday at Comic Con, we got a chance to see a panel featuring series executive producer Ciro Nieli (Super Robot Monkey Team Hyper Force Go!), who explained how he is taking the best of previous…
This has been a big year for Steven Spielberg — he's launched two TV shows, including last night's Terra Nova, and produced countless movies. The Spielberg tribute Super-8 was a surprise hit, and it's become fashionable for other film-makers to claim they're paying tribute to early Spielberg. Still ahead this year:…
Gremlins scribe Chris Columbus put the new movie rumors to bed, with the help of original executive producer Stephen Spielberg. What do they seem much more interested in: a Goonies 2 "all grown up with kids" feature.