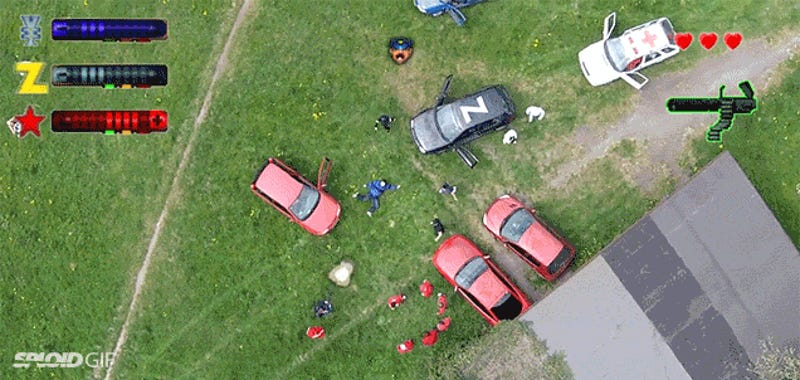 There are so many videos showing real life being imitated in Grand Theft Auto that it's about time we see GTA get recreated in real life. This recreation is especially cool because it takes the classic GTA top down view of the old video game and stages scene with real people and real cars and real streets.
Montreal-based photographer Benoit Paillé spends hours looking for the right place, the right light and the right moment to take his beautiful landscape pictures without having to leave his apartment. He just wanders around, waiting for the perfect snapshot, in Grand Theft Auto.
It's official. Living in the world of GTA is way better than living in real life. Hell, the only thing real life had on being a criminal in Los Santos was gaspingly beautiful time lapse videos that would pop up every and now again to capture your attention and make you wonder why you can't see the world like that…
As an ode to Niko Bellic from GTA IV, Andrew McMurry imagined what a real life version of GTA would look like. In this short, Niko loses his all powerful cell phone and a random passerby manages to get a hold of it. He can cue up outfit changes, special powers, rocket launchers and the ability to ditch the cops. Can…
The college kids protesting in Istanbul are from Turkey's first big video game generation, and the language they're using on social media to describe the scuffles with police are straight out of Grand Theft Auto, the hyper-violent car crime game.
You can already get flying cars in some versions of Grand Theft Auto with a cheat code — but will there ever be a straight-up futuristic version, set in some kind of science fiction megalopolis? Rockstar Games VP Dan Houser called the prospect "tempting," but added, "We will do it the very second we have an idea."
I foresee plenty more wasted hours in your future—not to mention $10 instantly disappearing from your bank accounts. The iPad version follows the iPhone game, only with higher-res graphics and new controls layout. [iTunes via Redmond Pie]
The iPhone's got its first GTA title, and it looks pretty great. As teased before, this is a top-down GTA, and it's a near-direct port of the Nintendo DS version, albeit with better graphics, and more awkward controls.
Grand Theft Auto IV is coming, and with it Microsoft are dropping an awesome, limited edition, Xbox Elite console, which features GTA branding all over. The gaming beast will not be launched to the public, but instead will be given away as press kits to promote the new title, which kinda sucks. Only 500 units will be…