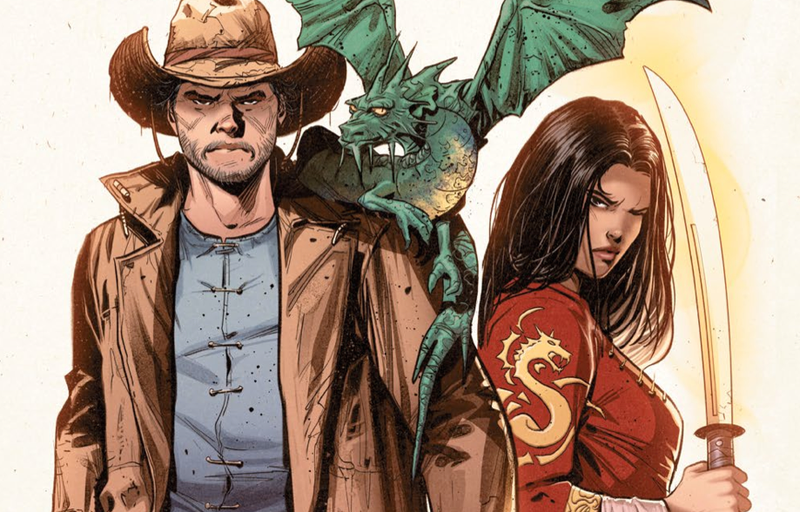 It's extremely rare for me to get pulled all the way into a new fictional reality from the very first page of a comic. With only a map and four captions of expository text, the first page of Kingsway West #1 got me hungry to know more about the world of a Chinese cowboy in an Old West radically changed by magic gold.

We loved Greg Pak's robot-themed anthology film Robot Stories, and now he's crafted a bizarre, clever short film set in our eco-apocalyptic near future. "Mister Green" is one of 11 movies about future America that you can watch for free.
What happens when one World War Hulk isn't enough? Marvel plans to answer that in a new storyline spanning the Hulk franchise this December, as Jeph Loeb and Greg Pak team-up to write smash-filled sequel World War Hulks. Spoilers ahead.
For Marvel's incredible Hulk, "smashing" isn't just a hobby; it's a family business. That idea takes center stage in next week's Planet Skaar Prologue, in which Hulk's son comes to visit Daddy. Yes, fighting ensues.
After just showing that the "Ultimate" version of Magneto was the son of privileged Canadians, Marvel Comics are continuing their somewhat schizophrenic history with a new series looking back at Magneto's childhood... as a Jew growing up in Nazi Germany. Click under the jump to see previews that reveal that Magneto…
Robert Downey Jr. will save the world from an evil race of settler aliens as crack-shot gunslinger Zeke Jackson in the movie Cowboys & Aliens. Giving the humans a taste of their own wild, wild West medicine, a powerful group of aliens lands on Earth and proceed to steal our land and murder our people. Click through to…
Over the weekend at WonderCon, author Douglas Wolk (Reading Comics) gave a talk about the not-so-secret allegorical tales that lurk beneath the BAM! POW! of your typical superhero comic book. I caught Wolk on the con floor and asked him to explain the political subtext of Greg Pak's recent World War Hulk series. In…
Greg Pak's Robot Stories was one of our favorite indie science fiction films of recent years. It explored people's emotional relationships with robots — and robots' relationships with each other — through three short narratives. Now Pak is writing comics, including the recent World War Hulk and a Battlestar Galactica…
Must-read graphic novels are futuristic classics that shouldn't be missed. Of course, not every must-see is perfect. That's why we've rated them 1-5 on the patented "crunchy goodness" scale.

Title: Hulk: Planet Hulk
Date: 2006-2007

Vitals: Four of the Earth's top Super-heroes decide the Incredible Hulk's…