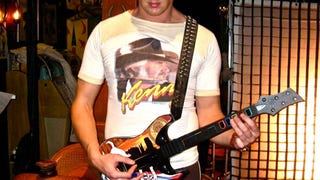 Thousands of you Twittered up to feed questions about tech—and some Muppet-based ones—to guest editor Peter Serafinowicz. He answered 25 in a torrent of wordplay. While we await his first guest post, here's the amazing #PSQA playback:
You probably recognize our new guest editor, even if you don't know his name. Peter Serafinowicz was the angry roommate in Shaun of the Dead, the Guitar Hero guy in Couples Retreat, and "John" of Mactini fame. Now he's ours.
Howdy everybody, the Gizmodo crew has invited me to post this week on mobile and wireless shiny things. Somebody told them I was "funny," but I'm not sure they meant that I was ha-ha funny. In any case, I'll be on the prowl for anything interesting sans wires this week.