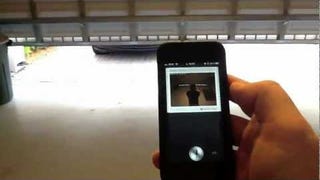 With home automation being all the rage these days, it was only a matter of time before Siri got her little, occasionally holier-than-thou claws into the action. All it took was YouTube user Elvis Impersonator, a Raspberry Pi, and enough trust in Siri's goodness to believe she won't devolve into a Hal 9000 wannabe.
Good morning, Reader. This is a HAL 9000 replica computer. It became operational at the ThinkGeek Plant today, and is built with the same illustrations and blueprints as the one used in 2001: A Space Odyssey.
Remember Justin Van Genderen's throwback travel posters for locales in comic books and the Star Wars universe? He's now given 2001: A Space Odyssey a similar retro rehash. HAL comes preprogrammed with "Daisy Bell," I'm assuming.
Just because this decal is obvious, it's not less awesome. Actually, I really wish I could turn my MacBook into the real HAL 9000, Dave. [Etsy via Geeky Gadgets]
Both machines are killers, but which one is less evil? Which one would kill you more humanely? [Pickaklas]
We know. He certainly looks cute and harmless. But sooner or later, the HAL 9000 (freely printable papercraft version) could get a small, unintentional dent in the side. "I'll just toss him in the shredder for another," you say out of earshot from the harmless little paper computer. Or so you thought... [
Mr. Hal 9000
…
The people at the
Fark
forums have run a Photoshop contest on HAL 9000, twisting the ominous red eye of the psychopath mainframe into all sorts of funny variations. From HAL 9000 to PAL 9000 to HEIL 9000 to the obligatory GLORY HAL, the resulting gallery is hilarious.
John Seabrook wrote a recent feature in The New Yorker about interactive-voice-response systems (I.V.R.) commonly used with customer service and tech support telephone hotlines. Seabrook spent time at B.B.N. Technologies watching these systems transcribe callers' words and analyzing the tone of voice for emotions…
Google and the internet are changing the way our brains work, no doubt about it. With the internet at our fingertips, why bother to remember trivial facts when Wikipedia is just a click or two away? In the latest issue of The Atlantic, Nicholas Carr makes a convincing argument about the various ways our obsession…
For a mere $69.99, you, too, can own a piece of HAL 9000's core memory. This 1-GB USB key may LOOK like it just has a sticker that says HAL on it, but this is the operational memory for the most maniacal robot in universe. Just don't pull it out without ejecting it first in OS X—because it has the greatest enthusiasm…