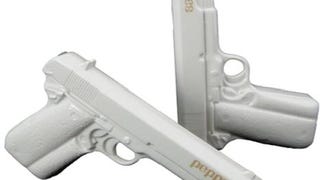 Amateur cooks forget all too often that every single item of food must be properly seasoned. So if you need novelty shakers to motivate you to hit up your eats with some S&P, that's just fine with us.
Bang bang, my baby shot me down. Then she tried to call me to ask me for money, but I couldn't pick it up. Thankfully, it was all Photoshopped. [Strategy Page via The Raw Feed]
This modded Bergen Gasser EB remote-controlled helicopter has a handgun on its nose. Yes. A handgun. And as you can see in the video, it can also be fired remotely.
Got an unused airsoft gun from your guns are cool teenage years? Why not transform it into a Bluetooth handset that you'll probably still never use. A user at Instructables did just that by rewiring an older Jabber handset inside an airsoft gun. Even though it's probably the biggest and most absurd Bluetooth handset,…