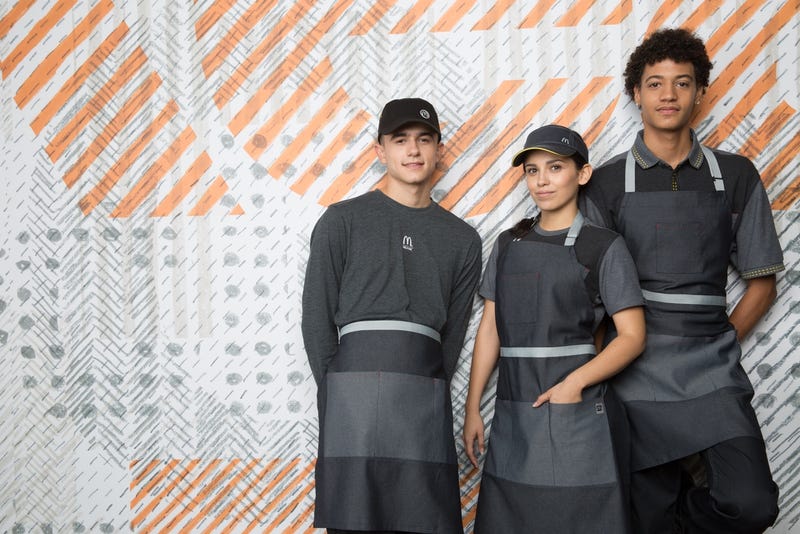 Do the new McDonald's uniforms remind you of anything? If you answered "every dystopian sci-fi movie ever," you're correct. To me, they invoke a very Logan's Run future. But mandatory gray-on-gray with a dash of black is pretty much universally recognized as the standard uniform for bleakest of futures.

In the first couple episodes of Hulu's The Handmaid's Tale, there are two aerial shots depicting the handmaids, dressed in vibrant scarlet, flocking together in an animalistic swarm. The first is when they murder an accused rapist at the behest of their totalitarian government. The second is when one of their own has…
The new audiobook for The Handmaid's Tale is now on Audible, which includes a radio drama styled as a Q&A that answers a few lingering questions about the book and its characters. However, it mostly left us with a big question of our own: Is Margaret Atwood setting up a sequel to The Handmaid's Tale?

John Boyega suits up for Pacific Rim: Uprising. The Flash teases a big return to Gorilla City and a major new villain. Hulu's The Handmaid's Tale adaptation will do away with a major aspect of the original novel. Plus, there's a ton of new footage from The Lego Batman Movie, and The Predator adds another cast member.…
Today Hulu announced that its 10-episode adaptation of Margaret Atwood's dystopian The Handmaid's Tale will premiere April 26, 2017. It also released an array of character images, including this pensive shot of star Elisabeth Moss, along with several faces that didn't appear in the first-look photos, such as Samira…
Hulu's 10-episode adaptation of Margaret Atwood's The Handmaid's Tale is coming in April 2017, and the network just released some lovely first-look images. Elisabeth Moss stars as Offred, a woman trapped in Gilead, a newly-formed dystopian society that only values her ability to aid repopulation efforts.
Every few years, there's another essay insisting that irony is ruining culture. Hipsters and postmodernism have created an insincere world where nothing means anything. But you never hear anybody insisting that irony has ruined science fiction. That's because irony is part of the creative life-force of the genre.