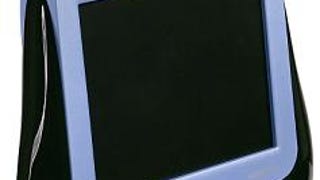 Hannspree, a company that's no stranger to putting LCD screens in absurd places, has just pioneered a leather purse LCD TV. You read that right. Leather. Purse. LCD. TV. Purse. TV. LCD. Leather. TV. Purse. LCD. Purse. TV. Italian Leather. 9.6-inches. $259. You don't want one. [Hannspree via Shiny Shiny]
If anyone does weird LCD TVs, it's Hannspree. And, while I can understand the importance of fire truck- and french fries-shaped TVs, I am not entirely convinced about Time Square, a 12-inch LCD TV with built-in clock, thermometer and hygrometer, whose dials swing open to reveal speakers.
HANNspree's computer display division, HANNS.G, announced five new LCD displays that are being touted as "Vista certified," whatever the hell that means. The big beauty is a 22-inch HW-223DPB that displays at 1680x1050 and has a nice 5ms response time and 1,000:1 contrast ratio. It has DVI inputs, but includes a DVI…
HANNSpree, maker of TV sets in the shape of baseballs, French fry containers and worse, is now shipping its line of HDTVs that actually look normal. This 32-inch HANNSvibewhite widescreen LCD, first teased late last year, gives you 720p goodness at a price that's not entirely unreasonable: $1,150.
HANNSpree is known for making some pretty unique LCD TVs. They cover everything from fire trucks to elephants to baseballs and more, but this is a bold new step. The HANNSFries TV look like a pack of fries, and the accompanying remote control looks like a ketchup packet. I am glad HANNSpree finally created a fry TV.…
It may be a little too late for your Super Bowl party, but this is still a pretty good deal. Hannspree, a quality LCD manufacturer, has this 32-inch LCD HDTV for $500 after all is said and done. It has a list price of $1,000, but it also includes a $350 instant savings and $150 mail-in-rebate making it $500 in the…
Hannspree knows that they aren't gonna grab anyone's attention here at CES with boring, run-of-the-mill HDTVs. There are about 500 other companies showing off HDTVs, and let's be honest — once you've seen a dozen big HDTVs, you've seen them all.
Roy Furchgott, has an eye for design. He writes an insightful piece in the NYTimes about Korean electronic maker Hannspree, and their latest design triumph: An LCD TV that looks great from the backside. Delicious, and useful for times when a TV doesn't sit against a wall.
Hannspree is generally known for having some odd LCD TVs and the tradition continues at CEDIA. Hit the jump to see some more of Hannspree's more unique LCD TVs.
Travis here, back in freezing Kansas. I was given the amazing opportunity to be one of Gizmodo's writers covering CES and here are some of the gems that really caught my eye.
We've shown you the child's side of Hannspree with its Disney-inspired LCD models, but here's something a little more sophisticated for the grownups. The Hanns Starlight is a 15-inch LCD TV that, strangely enough, is inspired by the contours of the moon in the starlit sky. I don't know what the Hannspree team was…
In the market for a TV set shaped like a baseball or a container of french fries? Designer TV manufacturer Hannspree sets up a boutique in San Francisco's Union Square. [San Francisco Chronicle].

Japanese feds consider charging a royalty, destined to be called the iPod tax, on MP3 players. The tax would amount to…