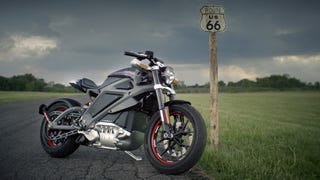 Si tenías pensado comprar la nueva moto eléctrica de Harley Davidson, mucho me temo que tendrás que esperar. El prototipo no llegará a las tiendas hasta dentro de dos, o quizá tres años. La culpa de ese retraso la tienen las baterías actuales.
La preciosa bestia mecánica de la imagen es la Project LiveWire, la primera motocicleta con motor eléctrico en la historia de Harley-Davidson. Capaz de acelerar de o a 100 en solo cuatro segundos, su propio nombre ya sugiere que todavía no es algo definitivo. La Project LiveWire aún no saldrá a la venta. Antes Harley…
Hace tan solo unos días, una especialista caracterizada como Scarlett Johansson fue vista en el set de rodaje de los Vengadores 2 sobre una Harley con motor eléctrico. La filtración (probablemente intencionada) es real. Hay una moto Harley-Davidson eléctrica, y la conoceremos mañana.
Apple's controversial Lightning connector has a name that nicely matches up with the Thunderbolt data connection. But its name caused Apple some trouble—because it had to buy the trademark from Harley-Davidson.
I love the alternate-reality logo work by svenska designern Viktor Hertz. After his first series, he's back with a new batch of Honest Logos, even better than the first. My favorites: Nokia, Starbucks and Dunkin' Donuts. [Flickr via Bored Panda]
Elvis on a motorbike, Evel Knievel was one of the icons of the '70s. With his star-spangled red, white and blue leathers—apparently inspired by Liberace rather than the King—and mussed-up blonde mop, cape flying behind him as he catapulted his Harley XR750 over buses, cars and canyons, Evel was excess personified.…
This two-seater motorcycle for kids from Neiman Marcus isn't going to go very fast—it's not even motorized at all—but the pictures of those cute rugrats dressed up in biker duds was too much for us to resist. This is a highly detailed model, though. It really does look a lot like a Harley-Davidson FXSTC Softail Custom…
Case mod may be a bit of an understatement here—this monstrosity is really a case fabrication project, done almost entirely from scratch. A huge fan of Harley Davidson motorcycles, a computer geek with a knack for shaping acrylic decided to build a 1:1 scale Harley Davidson V2 engine. A case this meticulously detailed…