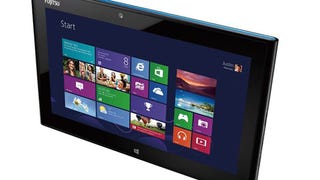 Fujitsu acaba de renovar su catálogo de tabletas, laptops y equipos de escritorio. Entre las novedades destaca el Arrow Tab QH77M, un interesante convertible que, pese a llevar en su interior un procesador Intel Core i5, y refrigeración por aire, es sumergible.
Chromebooks aren't known for being the beefiest machines out there, but they're getting some hot new guts. Google just dropped the news that there are Chromebooks on the way rocking Intel's new 4th generation CPUs, bringing serious computing power and better battery life to the table.
Today's golden children may be iOS 7 and all things software, but that doesn't mean the actual machines running that software are being tossed to the wayside. Confirming recent rumors and stock shortages, we are officially seeing Apple's super skinny MacBook Air get a much deserved refresh.
El próximo portátil que te compres será una auténtica máquina. Eso es lo que promete Intel con su 4ª generación de procesadores, presentados hoy oficialmente en la feria Computex de Taiwán. Su nombre interno hasta ahora había sido Haswell, pero a las tiendas llegarán simplemente como Core i5 y Core i7 (Core i3 más…
Bits and pieces of info about Intel's brand new 4th generation processors have been dripping out for months now. Good graphics, crazy battery life. Exciting stuff. Finally, though, we've got a full view of guts that'll power most of next year's computers, and they'll be available starting June 4th. The future looks…
La tentación es grande porque en breve comenzará la campaña de vuelta al colegio, con importantes descuentos. O tal vez tu viejo PC o Mac empiece ya a mostrar signos de estar en las últimas. Da igual. ESPERA. Ahora mismo es el peor momento posible para comprar un PC. Dentro de unos meses merecerá la pena haber…
Intel's next-generation laptop chipset (Codename: Haswell) isn't set to come out until next year, but when it does, AnandTech says the 3D-transistor-based hardware will offer twice the GPU performance as Ivy Bridge, and when idle, will consume 20x less power than Sandy Bridge. Excited yet? [AnandTech]