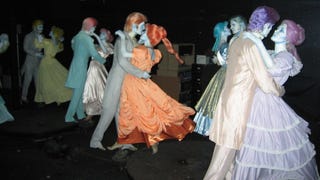 Love or hate haunted houses, it's hard to deny the fact that their ability to turn otherwise rational adults into whimpering shells of their former selves is, to say the least, fairly impressive. And now, thanks to the new Haunted Mansion Backstage tumblr, you can see exactly how they turn all that dated robotic tech…
If you're planning on moving because some paranormal activity chewed up and spat out your dog you might have some extra paperwork to fill out. Some states require that sellers warn buyers about weirdness that could affect property value.
Modern haunted houses don't feature rubber bats and bowls full of peeled grapes masquerading as eyeballs, they screw with your phobias and recreate nightmares. I thought that going through with a thermal cam would be less unnerving. Wrongo.
Welcome to Gizmodo's Haunted Halloween Post. Turn of the lights and prepare to take a blood-curdling journey into the nether regions of animatronic hell. Unlike a traditional haunted house, there are no walls (except maybe the boundaries of your monitor), but each floor of this post is packed with pure evil. The story…