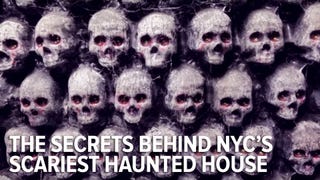 Walk through New York City's Blood Manor in the dark, and you might have a heart attack. Explore it with the lights up and you'll see a series of simple tech tricks designed to scare the pants off you.
Mansion 7 is a ghost-themed mall in Bangkok. It contains a haunted house called the Dark Mansion, which is supposedly haunted by the owner's daughter and all the black-magic beasties he unleashed trying to raise her from the dead. And it hosts insane-looking parties. We wanna go!
Why do the spirits of people linger long after they've passed from the living world? This is a central question in Lauren Oliver's first adult novel, Rooms, a powerful haunted house story that digs deep into the cracks of a broken family, and the house they grew up in. It's the perfect novel to kick off your fall…
Haunted houses have gone over the top in the quest for guts, gristle and gore. But the Alvarado Caverns and Mystery Theater in Los Angeles offers a clever, DIY twist on scare tactics. Its fascinating—yet still freaky—lo-fi haunting techniques are cribbed from one of the country's original spooky addresses:…
I'm stuck in a cement hallway. The only light is from a collection of blinking TVs, scattered on the ground. I take a step forward, and so does a figure on the TV screens. It's me. I'm watching myself... I try creeping forward until my bare foot lands on something cold and wet and feels exactly like a condom. Yep,…
Low-budget science fiction and fantasy movies rule. While mega-blockbusters crank out the same familiar stories, including a parade of sequels and remakes, a low-budget film can take crazy risks and tell an original story. But sometimes, low-budget movies can get just as obsessed with chasing fads and copying each…
We've all been there before: Dressed up in costumes, ringing the doorbell expecting candy before a multidimensional demon opens the door and devours our souls. Here're some of our favorite Haunted Houses... just so you know which ones to avoid.