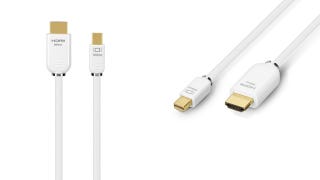 Uh oh—it appears that Mini DisplayPort-to-HDMI cables are unlicensed, so manufacturers have been selling illegal cables this whole time. This doesn't bode well for Apple, but also for Toshiba, Dell and HP, who all use the port.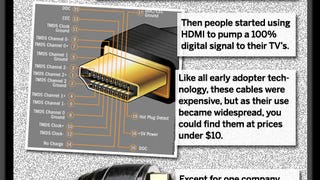 Expensive cables are a big rip-off. No surprise there, we wrote about it at length in our "The Truth About Monster Cable" trilogy in 2007. (1, 2, and 3.) But if you're a visual learner, Mint.com offers this helpful infographic.
I love the idea of light-up HDMI cables but I'm not sold on these, from Japan's Donya electronics retailer. In a sense, they are completely backwards. Have you guessed why?
Honeywell, maker of all kinds of scary top-secret stuff, has just unveiled its design for a "self-diagnostic and self-healing" HDMI cable. No, this isn't like the self-healing armor that for all we know Honeywell also helped design; these new cables use a chip to correct signal as it passes through, and LEDs to tell…