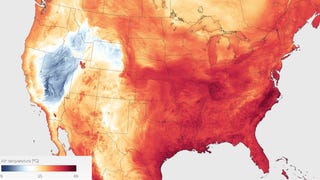 If you can't stand the heat, it's not the week to be in America, my friends. All signs are pointing toward a miserable, record-smashing heat dome engulfing most of the continental US over the next few days. For a scientific illustration of what our impending heat death will look like, meteorologists over at NOAA have…
India is known for becoming a sweltering furnace in May, but last month was exceptionally brutal, with temperatures hovering 10 degrees Fahrenheit above normal for nearly two weeks. By June 4th, the heat wave had claimed over 2,500 lives, making it the fifth deadliest in recorded history.
Guys I think summer might be over. I know it was Labor Day already and everything, but now I see that I've been in denial. I mean fall is great, but I just didn't really think it was time. It's almost as devastating as when Chiddy Bang broke up in May. I'm flexible, though. I can roll with it. This can be our…
This afternoon, ConEd issued a statement pleading with New Yorkers to use less energy—and thus prevent brownouts. Why? Because today at 2pm, the company broke its official energy usage record.
Forget frying eggs on the sidewalk, never mind the new heat index colors, Australia's record-setting heat wave is so insanely intense that in some areas drivers can no longer refuel their vehicles because the petrol evaporates as it's pumped.
I imagine that all Gizmodo readers regularly exercise like fiends, so these cycling gloves may prove to be quite useful for many of you. The Spenco MTB Heat Wave, Trail Pro and Cold Snap help prevent the sensitive nerves in your hands from being agitated via special gel pads in the glove. The gel pads absorb the…