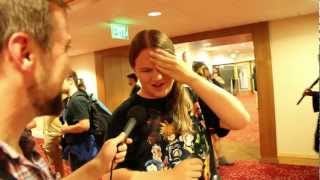 In an interview at the 2012 Dragon*Con, a young attendee was asked for the definition of hentai. It's not a question one gets asked often, but this gent accords himself well. But where he really shines is when he's asked what his own, self-starring hentai would be like. It's kind of all over the map plot-wise, but…
Yes, you read that right. Someone is putting out an anthology of tentacle porn (in written form, not comics), and all proceeds will go to benefit Oceana, a charity that works to protect the world's oceans. All of a sudden, hentai seems oddly... noble. The book is called Coming Together, Arm in Arm in Arm.
So much amazing wrongness in this NSFW clip from Buttobi CPU. A malfunctioning sexbot attacks another sexbot and her master. The friendly sexbot can't defend herself unless her master upgrades her... by sticking his "active molecules" in her "rear port."
This green-haired alien girl can rip your clothes off AND make you super-horny with just a strobe-flash of her eyes. Some people think science fiction hentai porn is all about tentacle monsters, but they're dead wrong. There are mad scientists who transform women into super-evolved sex-monsters, androids who need…
If masturbating to jet planes or the Titanic seems a little too weird for you, Joel over at BB Gadgets sheds some light on the Mecha Musume genre, which combines hentai girls with modes of transportation to form one weird-looking pin-up picture. By modes of transportation, we're talking fighter jets, big boats, cars,…
While many—say, for example, a Northeastern bachelor farmer from the 1880s sending away to the Sears Catalog for a wife—may not know the difference between anime and hentai, I'm sure many of you do. However, Amazon, like that bachelor farmer, is unaware of this distinction and, most importantly, children looking for…
Hentai porn turns out to be chock full of your standard-issue sex robots, who just want to obey your commands. But some of them are a bit more... assertive than you might have expected. And there are also a lot of weird cybernetic situations. Not to mention, there are tons and tons of giant robots or cyborgs who have…
Alien invaders aren't always evil monsters who harbor an inexplicable desire to ravage you with their giant tentacles. Sometimes, they're just cute and friendly intruders who just happen to be curious about our human mating rituals. And then there are sometimes the odd alien monsters who want to siphon off your sexual…
Unlike aliens, who just want to learn about your human sexuality, and mechas, who just need your sex energy, mad scientists are sometimes a bit more sinister. They often want to hack your body in various ways, nice and otherwise. They sometimes have weird pharmacological supplements that they want to try out on you.…