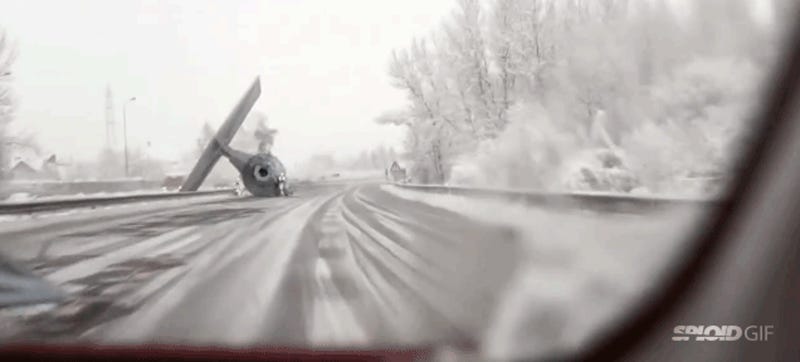 German TV channel Dein Sky Film just posted this cool dashcam video showing a TIE fighter crashed on a highway. I don't know if this is a viral ad for the new Star Wars VII: The Force Awakens or what, but whatever this is, it's really cool.
Between rush hour traffic and 18-wheelers, our roads take a real beating over time. Tiny sensors in the asphalt could give us a real time map of stress on aging roads, but then how do you keep embedded sensors powered for years? By harnessing the very motion of the cars whizzing by.
Connecting Alaska to Argentina, the Pan-American Highway runs some 30,000 miles north to south. Construction to widen the highway briefly stopped, however, to make way for dead whales back in 2010, when workers digging through a remote stretch of the Chilean desert found a huge trove of bones millions of years old.…
When not being used for poorly thought-out political revenge, traffic jams are making the lives of commuters suck on a daily basis. But sometimes, bad traffic can get spectacularly bad—even worse than fake traffic study bad. In honor of those times, we've collected some of the worst traffic jams in history.
When this happened in Kansas in broad daylight, people gathered along the road to watch in awe what they thought could be a UFO transported by the military. Yesterday evening the same scene caused a frenzy in Washington DC's highways.
Gas stove tops are amazing to cook on: instant, controllable and capable of getting super-hot. A shame, then, that a new study shows that apartments with gas have nitrous dioxide levels three times higher than the sides of busy highways. Nitrous oxide, by the way, is toxic by inhalation.
Japan's world-class transportation infrastructure couldn't withstand this month's 9.0-magnitutde quake, but their construction teams are still amazing. This stretch of highway was repaired in just six days by a Herculean road crew. This is the triumph of Japanese engineering. [Jalopnik]
This road smashing into a building and emerging out on the other side is the most "normal" highway in this album of Japanese infrastructures collected by Dark Roasted Blend. Here are our favorites.