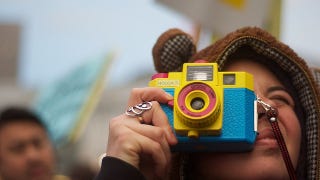 According to the most popular definition on Urban Dictionary, it's "what just about every scene kid and hipster under the age of 25 calls themselves these days. Many own Canon Rebel xtis and rely heavily on cropping and Photoshop filters to give their otherwise mundane photos an "artsy" feel."
World-famous DJ/mashup artist
Girl Talk
(a.k.a. Greg Gillis) has gone on record: he's a PC, and his sweatband may not be totally ironic. His "I'm a PC" short features a lot of his philosophies on music, which aren't so interesting, and his habit of taping Saran wrap to his computer during shows, which is sort of…
Slightly less embarrassing than carrying a fanny pack, this hipster lets you carry around your stuff in a little personal trailer. The hipster's tied to your body, making you a half mule half, half rickshaw driving man with a trailer on your ass.