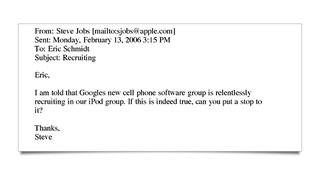 A court filing has just been made public which sheds light on the "no-hire" gentleman's agreements that have pervaded the tech industry—and reveals how Steve Jobs threatened litigation to prevent companies from stealing his staff.
We pulled a bunch of detailed information about Apple's employees from LinkedIn - which is all available on the site. It turns out Apple employs way more general and administrative people than research and development engineers, according to the LinkedIn data. It also hires way faster than most other tech companies in…
A normal job interview: you, a desk, a guy in a suit. Penetrating questions about goals, risk, strategy. Some handshakes, and you're gone. At Facebook? Zuckerberg takes you along this scenic trail, promising your techie dreams, the NYT reports. Swoon.
You don't have to simply be a fan of Apple products, you can actually help build them. The company has hundreds of job openings in everything from operations to HR to hardware and software engineering. It probably helps to have a friend at the company, but you can just cold apply for positions through Apple's site.
Xbox 360 seems to be in a pretty prime position: sales are good, games are great. And while new Xbox hardware isn't expected until 2015 at the earliest, Microsoft has already started hiring the engineers that will usher its console into the next generation. You've got four years, Xbox team! Make 'em count. [Beyond3d…
Aspiritech, a Chicago-based tech start up, is a software testing firm that exclusively hires people with Asperger's syndrome. Why? Because apparently, people suffering from Asperger's make for the perfect software tester. And this isn't even news! Studies have shown people with Asperger's thriving in tech fields…
Fortune did some digging through the Apple job boards and uncovered a listing looking for cellular systems engineers who are familiar with the CDMA and WCDMA protocols, along with GSM, EDGE, GPRS and HSPA. AT&T doesn't use CDMA radios, but Verizon does, of course. And if the Verizon iPhone is, in fact, on the way,…
"As we enter the 10s, the majority of top leaders at Microsoft are in their 40s and 50s." That's striking at a tech company, and Microsoft knows it—so they commissioned a study to help figure out what motivates these "millenials" (basically those aged 23-29) and how to attract and keep them.
Are you tired of your job? Were you laid off recently? No worries because a little thing like liquidation won't stop Circuit City from helping you jump start a new career.