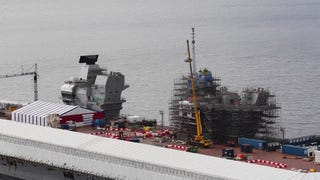 BAE Systems' high-tech 3D radar system called Artisan has been successfully installed to the Royal Navy's future aircraft carrier, HMS Queen Elizabeth.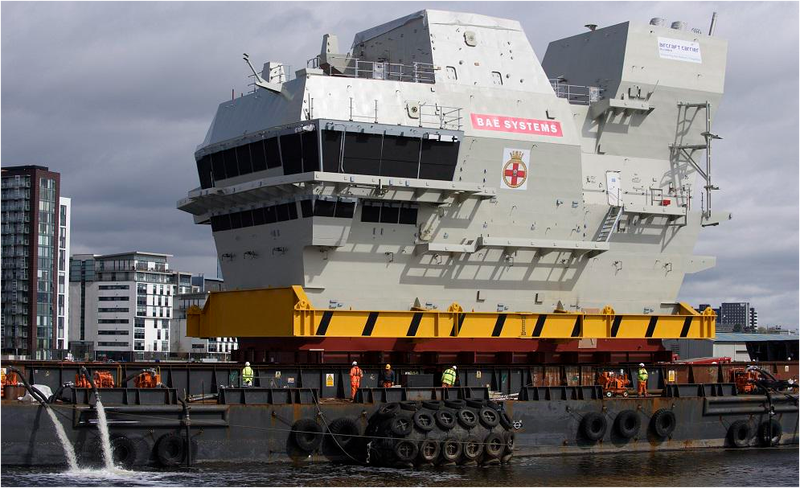 Parece una nave espacial acorazada que acaba de aterrizar en la Tierra, pero no, es el puente de mando del que será el nuevo portaaviones británico HMS Prince Of Wales. BAE Systems, una de las compañías que trabaja en su construcción, ha finalizado su ensamblaje mando y se prepara para trasladarlo por mar a otra…
No, that's not the world's biggest slab of marble; it's the wet landing deck of the UK's newest aircraft carrier. This 360 degree panoramic image, that you can drag and pull around on your screen, will let you explore the HMS Queen Elizabeth (R08) as if you were there.
The 109,000 HP Wärtsilä-Sulzer RTA96-C diesel engine is the largest and most powerful, but at 2,300 tons, any warship it's attached to is going to have trouble outmaneuvering jellyfish, much less torpedoes. Instead, the British Navy is relying on a new gas turbine engine that, while only half as powerful as the RTA96,…
Britain is not only getting a whole lotta lot of F-35B STOVL fighters, but two new 60,000-ton state-of-the-art aircraft carriers. Apparently, according to Dr Lee Willett, it's all part of a new World arms race: