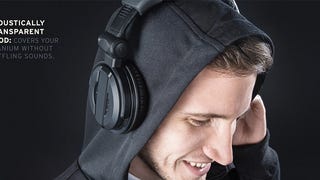 Originally designed for home or recording studio use, over-the-ear headphones somehow became a popular choice for music aficionados on-the-go. We can probably blame Sony's Walkman for that, but it means that Betabrand's new Audio Engineer's Hoodie—which uses speaker fabric on the hood so headphones can be worn over…
With Matthew Broderick out of the picture, and the latest version of the film destroying the box office, it's cool to like Godzilla again. And we all know that the best way to show your appreciation for anything is to wear a hoodie that turns you into a crude facsimile of it—whether it be a gigantic rampaging lizard…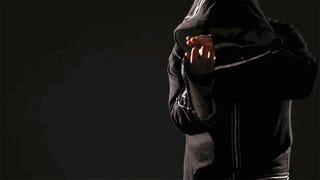 It started life as another one of ThinkGeek's impressive April Fool's Day prank products, but like the Tauntaun sleeping bag before it, there was enough demand from the site's fans to make the Technomancer Digital Wizard Hoodie a reality. If you're a cosplayer who's ever dreamed of magical powers, you better go get…
After delighting kids and toy collectors in the 1980s, it's nice to see the Transformers still enjoying some modicum of popularity. And while the Hollywood blockbusters have been forgettable, this wonderful Starscream hoodie—complete with presumably non-working wings—is not.
Completing the triad of 80s cartoon and toy perfection, Voltron proudly stood alongside G.I. Joe and the Transformers as the best ways for a kid to relax on a Saturday morning after a long week of school. And since the holidays are just around the corner, if you know someone still holding a candle for a childhood…
One hit from a sword and you'll be dead faster than your social standing once you wear this out in public, but you won't find a more comfortable suit of armor than this plated hoodie created by Etsy seller Chadwick Dillon.
Almost as brilliant as their dress pant sweatpants, the guys at Betabrand have created a worthy follow up: the executive pinstripe hoodie that looks like a suit jacket. This is what Zuckerberg should've worn to his wedding.
If you lusted for the good guy version of the Tron hoodie, you are going to terminate all your conscious processes over the Sark version. The photo above is how it really looks, taken by our very own Mark Wilson.
Freshly laundered and added to the Google store, these hoody sweatshirts cost just $41.75 and come with—drum roll please—A GMAIL LOGO. [Google Store via Gmail Blog - Thanks, Brian!]
While this hoodie will make me look almost as snazzy as the oh-so-evil Shredder, odds are that I won't have any more success against do-gooder turtles than he. Maybe I should just wear a pretty, girly dress instead.
By Mark Ecko, this Stormtrooper hoodie will ensure that, at a moment's notice, you will be ready for an impromptu Star Wars convention or back alley role-playing fest. It may sound like overkill, but to the die-hard Star Wars fan, it's a whole lot easier than carrying around plastic armor everywhere you go. $98…
Nothing better in the run-up to Christmas to have a Jesus lookalike modelling a Pac-Man hoodie from Hot Topic. It's a steal at $45, but why is it only 80% cotton? Nylon just makes me come out in hives, guys. [Oh!Gizmo]