Coat hooks come in two varieties: dainty things that fling your jacket to the floor whenever someone walks by, and torture devices that take five minutes to snake through the loop in your collar. Leave it to the Swedes to come up with the perfect solution, an articulated pincher that's deployed by the weight of your…
When tackling products designed for use in the kitchen, designers tend to make every effort to perfectly balance form with function. And Karim Rashid's done exactly that with his new Hook cookware collection featuring built-in hooks for hanging/displaying your pots and pans on the wall.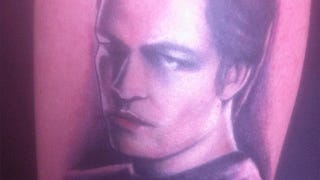 Who knew a few simple strokes from a tattoo artist could turn the mopey Edward Cullen into the brash, mohawked Rufio from Hook! According to Geekologie — who also made this excellent GIF — the ink was part of a bet:
We really liked The Adventures of Tintin, but we've heard lots of people saying it's not Steven Spielberg's best movie. And this started us wondering: What was Spielberg's last truly great genre film? Was it Tintin? Minority Report? God forbid, was it Indiana Jones 4? Now's your chance to vote!