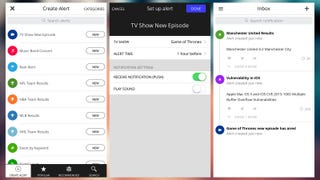 There are all kinds of ways to get notified about what's of interest to you: Twitter, RSS, IFTTT, Yo, specific apps, your favorite sites, your next-door neighbor and so on. Hooks is a clean and simple app for iOS that focuses on notifications and nothing else; it can prompt you with alerts for everything from sports…
You know that phrase "don't mess with a good thing?" Sometimes you come across a product that's so simple, and so-self evident about it that it's perfect. I feel that way about the Unihook by designer Pat Kim.
This limited edition set of knife hooks is the perfect way to show guests that you are on the cutting edge when it comes to hanging coats, hats, cadavers or whatever. Designed by Tiyani Chang's TC Studio, these matte black hooks are made of polyurethane and steel. Sadly, they are not stabbed into the wall; they are…
British designer Susan Bradley offers these made-to-order Stiletto Hooks, perfect for hanging up clothes with their positive traction heels and appropriate angle to the wall. Sold by the pair, each is unique, created by Bradley from vintage shoes.