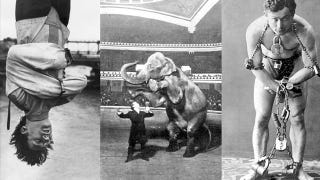 There is an unwritten rule among magicians never to reveal how a trick is done. So when a 2004 exhibition explained Harry Houdini's illusions, magicians around the world were apoplectic. David Copperfield called it a breach of magic protocol, and performers declared that they would boycott the exhibition. Many claimed…
Adrien Brody transforms into the early 20th century escape artist Harry Houdini for the History Channel miniseries Houdini. Known for his ability to escape chains, locks, and upside-down boxes filled with water, Houdini was legend — let's just hope this miniseries lives up to the artist's reputation.
Max Landis wants to add a little Cthulhu to a Houdini biopic. True Blood has recast James. The movie based on Ted Chiang's Story of Your Life has a director. Learn how The Purge 2 will turn the first movie's premise on its head. Plus watch brand new trailers for The CW's The 100 and Star-Crossed, and Syfy's Dominion.…
Houdini was truly on the cutting edge. He wasn't just the first man to fight a robot on film. He also jumped on the quick and relatively dirty "I'm at brunch and messaging you" thing REAL early, too.
The Houdini and Houdini Pro are two emergency car tools that improve your chances of not dying when faced with a crashed or sinking car. It's much like the seatbelt cutters and window shatterers that have been on the market for a while, but also comes with a safety whistle and LED light. The Pro upgrades the seat belt…
That headline is one of those insane things you never expect to write, or even read, in your lifetime, but newly restored Houdini movies show that he's the first person EVER to fight a robot on film. If you're at all interested in robots, Houdini, or some combination of the two going at it, get a copy of Houdini: The…