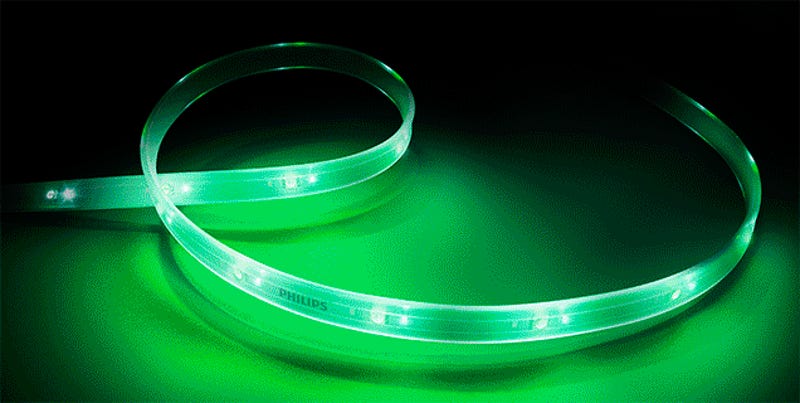 At some point in their life everyone has to grow up, and the same goes for Philips' flexible Hue Lightstrips. Once the perfect way to subtly turn your living room into a colorful rave, the LED strips can now be tuned to generate more natural white light for reading the paper, or just relaxing with some knitting.
Philips' Hue line of bulbs and other smartphone-controlled lighting accessories have been some of the more popular and successful home automation products of the past few years. They're easy to setup, easy to customize, and now easy to use anywhere you need thanks to the new Philips Hue Go—which is powered by a…
We've been raving about the Philips Hue smart lighting system since it first dropped. Well we've been raving about everything except its outrageous pricing—$60 a bulb, are you serious? But with the new Hue Lux, you can get a basic white smart light at a fraction of the price.
Philips has announced the upcoming release of three new products in the Hue lighting ecosystem: a streamlined and dimming white light, a kinetic-powered control panel, and a 3D-printed lamp that will sure to become the centerpiece of any room.
The Philips Hue lighting system is pretty darn awesome save for one minor detail: its finicky and feature-poor stock control app. Third-party, souped-up control apps, can fix that though. Here are the ones you need to really kick your home lighting into high gear.
The Philips Hue smart lighting system is, by virtually all accounts, very awesome. I mean, who wouldn't want access to all 6 million colors of the LED rainbow at their fingertips? But damn, if the stock Hue app doesn't leave a lot to be desired. Luckily, as the Hue's popularity grows, so too do the number of…
The first bulbs in Philips' color-changing, app-controlled Hue line were designed to mimic the omnidirectional shine of standard A19 light bulbs. This made them ideal for conventional lamps, but wasted a large portion of their light when installed in recessed ceiling fixtures. But today, Philips has announced the new…
You might remember that last year we were dazzled by Philips' Wi-Fi controlled LED bulbs that you can set to any imaginable color with a smartphone. Warm, cool, whatever lighting you want, using only an app. Rad, man. Now, Philips is introducing two new lighting options into its Hue product line so you can fine-tune…
Alltel ships Samsung Hue clamshell with swappable color faceplates, Jump Music-friendly MP3 player, 1.3-megapixel video camera—$40 after $50 rebate [Alltel]