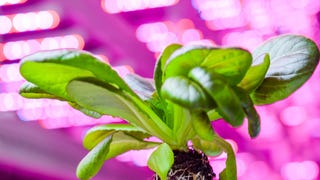 Chicago, Illinois, isn't exactly a major player in national food production anymore, but that could soon change if companies like Green Sense Farms continue to sprout up. With the help of next-gen LED grow lights, the country's biggest indoor commercial vertical farm can produce masses of produce regardless of the…
France will make quite a statement about feeding the world when it unveils its pavilion at the Milan Expo 2015. Not only will vegetables, herbs, and hops grow on the building's exterior, but that same food will also be served at a restaurant inside. In fact, the whole place is set up to be like a market from the…
If you're not an avid gardener it's hard to stay on top of keeping indoor plants like herbs and spices watered and cared for. So consider this Urban Cultivator like a personal gardener. It's designed blend in with your other kitchen appliances, but it keeps a small herb garden alive and well all year long.
Tired of paying the exorbitant markup for fresh produce at your grocery store? For a mere $70,000—and the cost of finding someplace else to park your car—this compact hydroponics container lets you grow a farm's worth of vegetables on a minimal chunk of land.
There is nothing like cooking or 'baking' with fresh 'herbs', but if you live in an apartment perched high above the city, you probably don't have room for a garden. Unless you can find space for Peter Buley's kitchen island which hides a secret hydroponics garden.
Living in an apartment or any small home has its limitations—you can't blast your music, and you can't grow your own delicious things. But Windowfarms is a beautiful, simple fix—the magic of hydroponics, strapped to any ordinary window.