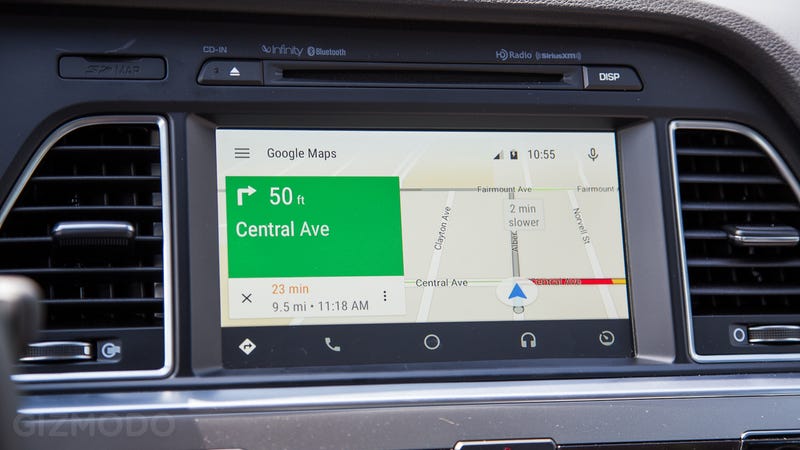 I was really excited when Google announced Android Auto last year. I spend a lot of time driving, and it sounded way safer and more convenient than sticking my phone to the dash. Eleven months later, I finally got to take it for a spin. The TL;DR version? I want it in my car, like, now. I bet you'd like it too.
Starting today, you'll be able to test the first wave of truly connected cars. Android Auto is now available on its first integrated vehicle, the 2015 Hyundai Sonata. As you head to your local dealership to test drive it, you can practice talking to your car on the way: "Ok, Google..."
Hyundai Heavy Industries Co.—of South Korea—is one of the largest ship manufacturers in the world. Along with Samsung, they build the largest ships in the world too. It just seems amazing to me humans can build vehicles at this scale. Imagine when we start building interstellar ships in space.
Google has just announced that it's joining forces with Audi, GM, Honda, Hyundai and Nvidia to create the Open Automotive Alliance. In other words, it's planning to take Android to the automobile.
You can see their inspiration for this table monitor, can't you? I do prefer Hyundai's stand to the box that Microsoft used on its Surface, though. And there's no denying what they were thinking of when designing the touch-surface, either.
Still bitter that Apple didn't use your totally rad theoretical iPhone concept all those years ago? You know, the iPod with Photoshopped phone icons on it? Well, have I got a phone for you!
Hyundai and Microsoft have just agreed for the latter to develop software for the former's cars, shoving in a "music and information system" by the year 2010. No details yet, but from the sound of things it seems like Microsoft's taking advantage of their experience with the Ford Sync system and making voice-control…
The Provia A7, developed by Hyundai Telematics, is even more souped-up than its predecessor, the horny-making A1. It starts with a slim 7" 800 x 480 LCD, adds an animated touch interface, then packs in navigation, simultaneous reception of T-DMB TV and TPEG traffic and other data, a removable battery and a freakin'…
Looking for a badass LCD with no ghosting thanks to a 1ms response time? This may be it. The Hyundai S90D has a 1ms response time, integrated speakers, integrated tv-tuner (!!), 1000:1 contrast ration, 300cd/m3 brightness and native resolution of 1280 x 1024 at 19 inches. Sexy is all I have to say about this. Too…
Forget spritzing some scent on your wrists and neck. Obviously, it's much better if your perfume can just be released into the air every time you open your cellphone. Adds a certain, je ne sais quoi, non? Well, it adds something alright. Like a whopping $1200 price tag. I mean, I know many of you have been cursing…
This week in Jalopnik: Tokyo motor show, part ni. Carmakers take Tokyo really seriously these days, using the show to launch their most high-concept and technology-focused prototypes. Automotive Armani, signer Giorgietto Giugiaro celebrates 50 years in the biz with a Ferrari concept; Volkswagen shows a high-mileage…