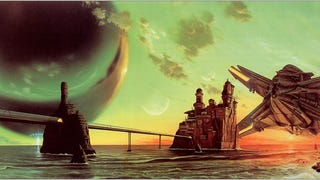 Over the weekend, author Iain M. Banks died of cancer — just two months after announcing that he had less than a year to live. He left behind some of the greatest works of science fiction ever written. Here are eleven Banksian rules of good SF writing, that we would do well to remember long into the future.
We knew this day was coming, but we hoped that it wouldn't be so soon. Iain M. Banks, author of the Culture series, The Algebraist, and a host of other novels, both genre and non-genre, has passed away.
Iain M. Banks has had two astoundingly great careers — with the middle initial, he's one of the most influential and brilliant science fiction authors of the past 25 years. Without it, he's a great literary author. And some people believe he did the science fiction to subsidize his literary work. If anything, it's the…
At Eastercon over the weekend, Iain M. Banks announced he'd just finished his latest novel in the Culture series, to be called Surface Detail. It will come out in February 2011.
Iain M. Banks is a giant of modern-day science fiction, so it's dispiriting to read his slightly down-at-the-mouth interview in the Guardian. His book advances are getting smaller, but the good news is he'll be writing more books in response.
Iain M. Banks, one of the best writers of contemporary science fiction, has an evil twin: Iain Banks, without the M, crafts sadistic, often surreal, novels about religion, politics and disturbed families. Here's why science-fiction afficionados should read both Bankses.