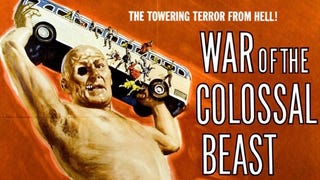 Not to be outdone by Syfy's "31 Days of Halloween," IFC has its own October gimmick in the works: "Wake Up and Smell the Evil," which unleashes B-movie horrors every weekend morning this month. That's right, morning—because nothing goes better with bacon and a hangover than Frankenstein Meets the Space Monster.

As soon as we heard about IFC's horror comedy Stan Against Evil, it reminded us a lot of Ash vs Evil Dead. And now that the first trailer has dropped, we see the similarities even more. Still, Stan—about a retired sheriff (John C. McGinley) who's reluctantly pressed into service as a demon fighter—looks like it'll be…
IFC's new show Stan Against Evil has many, many elements that excite us. It's a horror comedy in the vein of our beloved Ash vs Evil Dead. It stars the hilarious John C. McGinley (Scrubs, Office Space). And according to these first images, its definition of "evil" will include at least one angry devil-goat man.
Back in February, we learned that Simpsons vet Dana Gould was cooking up a horror comedy for IFC called Stan Against Evil, with a premise (crabby middle-aged anti-hero fights demons) that reminded us of Ash vs Evil Dead. Now the show has cast its most important role, and it's an inspired choice: John C. McGinley.

IFC is getting in on the current witch/Satan/hellfire trend with an eight-episode order of Stan Against Evil, a comedy from Emmy-winning Simpsons writer and producer Dana Gould. The description sounds a wee bit like Ash vs Evil Dead—which is a total compliment—though a lot will depend on who gets cast.

We're hypnotized by indie cartoonist Dash Shaw's The Unclothed Man in the 35th Century series of animated shorts. Playing with familiar themes of pulp heroes in new ways, there's something beautiful and disturbing about it. Click through to view.
Aww thanks, Independent Film Channel, for talking about io9 in your video segment about Sporn, the term for oddly-genitaled beings made using the "creature creator" editor that goes with EA/Maxis' forthcoming evolution game Spore. Though io9 did make a music video devoted to Sporn, we have to admit shamefacedly that…