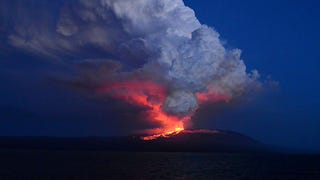 Representantes del Parque Nacional de las Islas Galápagos, en Ecuador, han confirmado que el volcán Wolf, el más alto del archipiélago y situado en la isla Isabela, ha entrado en erupción. Aunque no peligran vidas humanas, la erupción podría afectar a la iguana rosada, una especie única en el mundo.
Okay, so technically, Dave Durham's just trained his pets to respond to voice commands. But it's a short leap from there to giving them the other skills we've given to dogs. Seriously, how quickly would you keel over from fright if a man pointed at you and a bunch of giant iguanas ran your way? [via Tastefully…
At first I thought the Autofetch Motion Pet Ball is a neat way for lazy dog owners to give their pets some exercise and treats, but then I looked at the product FAQs. What's this about using it with kids?