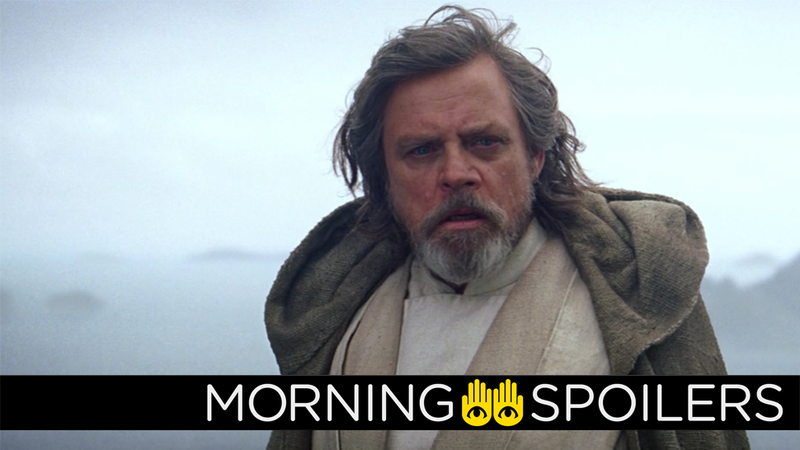 It's already time to start speculating if Mark Hamill will be back for Star Wars: Episode IX. Jumanji recruits a Doctor Who alum for what could be a familiar role. Duncan Jones talks about his hopes for a Warcraft sequel. Plus, new looks at the season premieres of Arrow and The Flash. Behold, Spoilers!
And that's not the only wild rumor about DC TV crossovers today. Plus a few new details about The Force Awakens emerge. Jeph Loeb talks about why we've heard nothing about the Iron Fist Netflix show. And Steven Moffat teases the big challenge of this week's unorthodox Doctor Who. To me, my Spoilers!
Gwendoline Christie compares her Force Awakens character to a beloved Star Wars villain. Mark Ruffalo teases Thor: Ragnarok. Lucy Lawless has a bizarre idea for the Xena reboot. Plus, Gotham casts another comic character, mystery casting for Powers and Twin Peaks, and Steven Moffat on Doctor Who's future. Spoilers Get!
Wolverine 3 will explore the relationship between Wolverine and Professor X. Incredibles 2 will explore ideas Brad Bird couldn't use in the first movie. Legends of Tomorrow casts a character with huge links to Hawkman and Hawkgirl's history. Plus, Game of Thrones heads to the Riverlands in new set pictures. Spoilers…
A familiar face will appear in Teenage Mutant Ninja Turtles 2. Get a look at sets for Captain America: Civil War and first looks at Heroes Reborn, The Frankenstein Code and Minority Report. Plus, Tom Cavanaugh teases the Flash finale, behind the scenes on Fear The Walking Dead, and more. Spoilers Now!
Damon Lindelof discusses the early, early status of Star Trek 3. Check out a video update from Godzilla director Gareth Edwards. Breaking Bad's Mark Margolis discusses his role as a fallen angel in Darren Aronofsky's Noah. Brad Bird won't rule out The Incredibles 2. Plus a final preview for this week's big Doctor Who…
Unable to wait for a sequel to The Incredibles for one minute longer, the talented artist Edwin Rhemrev took it upon himself to make his own Incredibles 2 artwork. And the result is very impressive. It's so glorious we almost wish this was actual Pixar concept art, and not just one fan's dedication to a great movie.