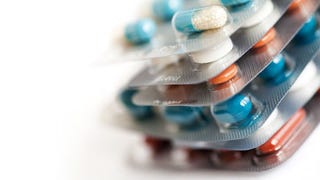 Last month, researchers at South China Agricultural University in Guangzhouin made an alarming discovery: a gene that causes bacteria to become resistant to colistin, a so-called "last resort" antibiotic. Now, New Scientist reports that the resistance gene MCR-1 has been found half a world away in Denmark—and a global…
A team of researchers at the University of Illinois at Urbana-Champaign have successfully developed an electronic suture that contains ultrathin silicon sensors integrated on polymer or silk strips and can be laced through the skin and knotted just like conventional medical stitches.
Ebola is an incredibly aggressive virus that kills 90 percent of people it infects, and it is often feared that its use as a biological weapon could wipe out millions of people—because it has no known cure. Now, though, scientists are one step closer to finding a solution, because they can now successfully cure…
Having suffered Salmonella poisoning before, I can definitively say it is not fun. And that's why I'm pleased to hear that research on Salmonella and MSRA vaccines has been helped along by the now-defunct NASA Space Shuttle program.
A priest has resigned from his parish after being caught viewing web porn in his computer at . While I'm sure God doesn't give a damn about porn-no matter -or the weaknesses of this priest, the church's IT staff and the archbishop weren't so amused when they discovered that his porn surfing antics had infected all the…
Mixing water and electricity is never a good thing, unless it's in the style of the new "CMB Antimicrobial Wound Dressing with PROSIT" bandage. When you wet it, it generates a small voltage which prevents pesky microbes, fungus, mold and yeast from getting through its treated polyester fibers. Good news if you've got…
TokyoFlash—always guaranteed to surprise us with impossible-to read watch designs— has just stumped up it's newest offering, which this time looks like some kind of organic cell pattern. It's dubbed "Infection"... and you can just imagine the advertising tag can't you? Yep: "No one is immune to infection." The time is…