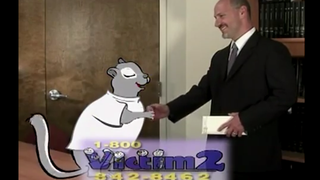 When it's three o'clock in the morning and everything is going wrong in your life, there's a certain kind of ad you might see on basic cable. Lawyers–usually guys–promise to battle the heartless, tight-wad insurance companies on your behalf. There's disaster footage and stiff readings off of cue cards. The ads look…
The recession has evidently hit Latveria hard, forcing its monarch, Victor von Doom, to sell off his inventions. In this infomercial, Doom touts the features of the Doom-O-Matic, the perfect culinary device for smashing pasta, watermelons, and the Fantastic Four.
This infomercial for a gadget called the Infomercial Stopper may just make your head explode. But it'll probably also make you laugh, as it's fucking hilarious (also, yes, that's the brilliant Matt McCarthy from those FiOS commercials). [YouTube]
Lisa and Toyo demonstrate the Star Guitar iPhone app with such paid-for enthusiasm that we just need to award them the Giz Video of the Day award. It's that good.