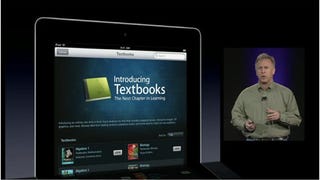 In an attempt to promote interactive learning and take over the textbook industry, Apple made its education announcement in New York this morning. Just in case you were at the chiropractor all day trying to undo years of damage caused by a heavy backpack, here's what went down:
Between coming up with a curriculum, teaching, assigning homework, and getting important info to students, teachers have it rough. The iTunes U app is going to let them do all of that from an iPad. Which means students can basically take entire courses from their tablets.
The Library of Congress just made a bunch of historical videos available on iTunes U. Now you can watch the original Edison films or Book Festival videos in a "University" setting without the need for booze or girls. Yay. [iTunes]
If you've ever had an idea for an iPhone application but you've never known how to begin creating it, Stanford will be offering how-to-build-iphone-apps computer science courses via free video podcasts through iTunes U.

Our man Chen was on top of the big Apple news last night, that iTunes 7.2 is out, and you can now go to town on DRM-free songs. But with Apple there's always one more thing. This time, the una cosa mas is iTunes U, a hub of academic audiotracks and movies that you can download for free. (Free-free? Yes,…