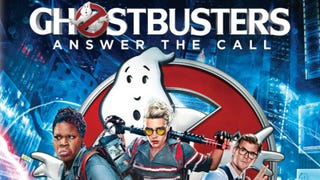 I thought we were past this but apparently not. Now that Paul Feig's Ghostbusters film is coming to digital and Blu-ray next month, reports have started to circulate that the title has suddenly been changed. This isn't true—mainly because the film's real title was Ghostbusters: Answer the Call even before it was…
If you saw Ghostbusters this weekend, we hope you stayed throughout the credits. Not only were there some good laughs during them, but there's also a shocking revelation at the very end of them. We talked to the film's director and producer all about it what it means for the future of the Ghostbusters.
This weekend, one of the producers of Ghostbusters declared the franchise would be "endless." But there's a long way to go before Sony decides to make an official Ghostbusters Cinematic Universe.
Ever since Ghostbusters 2 premiered in 1989, there's been talk of a third movie. For nearly 20 years, various scripts and ideas and rumors circulated until Paul Feig's new reboot, opening July 15, finally put the possibility to rest. io9 spoke with original film's director Ivan Reitman, as well as Feig, about what…
There are so many pop culture properties that have passionate, organized fan communities. Star Trek, Star Wars, Doctor Who, Marvel, DC, the list goes on and on. But one fandom you may not know much about is Ghostbusters, and a new documentary aims to remedy that.
Bill Murray showed up after a screening of Ghostbusters in Toronto yesterday, where he spent the better part of an hour answering questions from fans. His best answer was in response to a question about his penchant for weird, unannounced hangouts (crashing the above couple's engagement photoshoot, for instance).
With a new Ghostbusters script soon to be finished, we've been hearing that the franchise will introduce a whole new generation of Ghostbusters, with Venkman and co. passing the torch. But one more veteran is coming back: director Ivan Reitman.