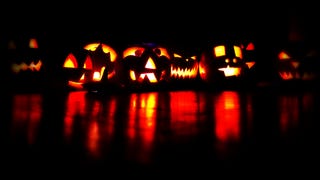 It's happened. At last. Halloween is on a Saturday. So once you're done with the 12-hour trick-or-treating marathon, take a photo!
You want a jack-o-lantern that looks like it was carved by a 6-year-old, by all means stick with the spoon and kitchen knife combo that you've been using since you were a kid. But if you want a jack-o-lantern that will terrify the neighbors until mid-November, you're going to need a better tool set.
My pumpkin will have the traditional smiley mouth and triangle eyes this year - just like every other year. But those of you who want to get creative can head over to ThinkGeek, and check out their yearly geeky pumpkin template contest. There's a Pac O' Lantern, a Death Star, and Iron Man's glowing chest thing (help…
When you carve your Jack-o'-lantern this Halloween, try and keep it simple. Because no matter how good you are at carving, shaving and hollowing, you won't be able to match this epically designed pumpkin carving. Demons, ghouls, zombies, guts—all artistically sculpted from this 1,818.5 pound pumpkin.
This is one astromech droid that will keep you flying. This incredible R2D2 pumpkin is the work of Noel Dickover, the undisputed champion of science-fiction pumpkin carving who gave us the Death Star pumpkin. And check out pumpkin Darth Vader!
Jack-o'-lanterns are my favorite things in Halloween. OK, Jack-o'-lanterns and mahoosive amounts of Jack Daniels. That's why I am happy that Mark asked you for photos of the spooky heads for this week's Shooting Challenge. Like before, you didn't disappoint.
It's almost Halloween, and for this week's Shooting Challenge, we want to see see pumpkins. And we want them to be evil.
If you really want to scare off those jerks who are coming to egg your house, you need a pumpkin with a little more menace than those usual jack o'lanterns. Luckily, you've got just enough time to carve your very own pumpkin replica of the killer robots from Battlestar Galactica, the Cylons, if you start now.…
It's that time of year again, and we're getting shivers down our spines just thinking about it: Halloween, the time of harvest, parties, carving gourds and getting drunk out of your gourd. And some of that gourd carving must have been done with the assistance of high technology, especially that one with Jack Nicholson…