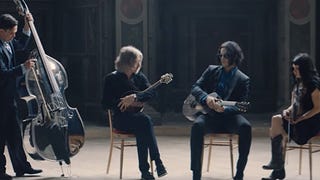 For eight years, La Blogothèque has been creating the best way to watch music on YouTube. Its Take Away Shows follow independent and mainstream artists around various French locales and capture what they do best: make music. This week, Jack White reminded us why this series is so amazing.
Jack White recently broke a world record by recording and pressing a 7" vinyl in less than four hours, but he has more innovation in store. Now, he's developed what he's calling an Ultra LP which offers multiple playback features: bonus features for the bygone medium.
Bizarre human being and Butthole Surfer Gibby Haynes has the honor of creating the next installment in Jack White's record label's, Third Man Records, fantastic Blue Series. The coolest part, though, is that some of the 7-inch, three-song singles are going to be printed on old medical x-rays.