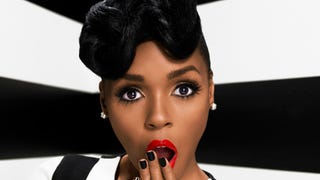 This is amazing. One of our favorite musicians, Janelle Monae (whom we interviewed here) is co-starring in a movie about the African American women who helped launch America into space, alongside Person of Interest's Taraji P. Henson.
Check out the video for Janelle Monae's cover of David Bowie's "Heroes," which came out the other day. In which Monae is a comic-book superhero who inspires bullied kids to become their own made-up heroes. This is the soundtrack to your Friday evening celebration, right here.
Science fiction changed music. And music saved science fiction. Most of our favorite flights of fancy and epic adventures are bound up in our minds with amazing musical scores, or epic theme songs. But some of the greatest pieces of music ever created were also inspired by science fiction and fantasy.
Science fiction, pop music, and reality are chock full o' artificial intelligences that can carry a tune. Here's an entire roster of fantastic singing she-bots who can croon circles around The Rock-A-Fire Explosion.