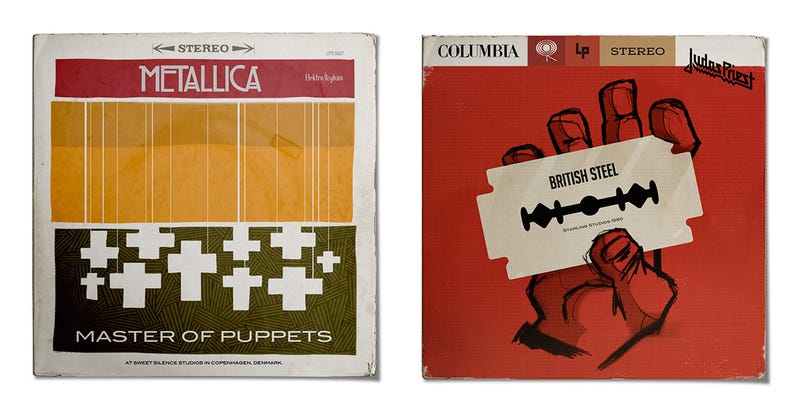 Look at the covers of all your favorite metal albums. While they'll probably fall into a few different schools of design, you can bet not a single one looks like anything that came out of the 1950s jazz scene. But judging from Brazilian designer Rafael Melandi's redesigns—maybe they should have.
I consider myself lucky. I managed to make it through the first weekend of December relatively unscathed by bad Christmas music—I didn't even hear the "Do They Know It's Christmas?" remake, which I consider a victory. But there's one album you could put on repeat from now until December 25 and I wouldn't mind one bit:
I love big band, but I also get that it can be lame. Like really really lame. But Thad Jones and Mel Lewis aren't like that. They and their band actually groove and are generally badasses, and their 1969 album Central Park North is a classic. "Tow Away Zone" is the first track and it's one of my favorites. Composed…
I saw Lou Donaldson play the other night. Which is crazy, because Lou Donaldson is 86. But he's still the man. He was joking around and calling out charts. And though his range is kind of impaired at this point, he was using the limitations to be more creative with what he did have. And at the end of the set he…
I have this chart as my ringtone. Anytime anyone calls me this is what I hear. Except my phone is almost always on silent, but whatever. The point is, "Bessie's Blues" is a great tune. And it's interesting because it's the only uptempo track on Coltrane's 1964 album Crescent, which has some pretty dark stuff going on.
This is gonna be a classy Friday night. You don't have to groove to Duke Ellington all the time, but when you do you should turn on Jack The Bear. This chart showcases Jimmy Blanton (Jack the bear...get it?), a bassist who at 22 brought the band to a new level in the early 1940s. Even if you hate 32-bar form and…
Let's go waaaay back for this one. Almost half a century ago, in 1964, the legendary Oscar Peterson Trio performed this great rendition of Duke Ellington's "C Jam Blues" in Denmark. While Peterson could (and often did) burn through standards at breakneck speed, he lets this tune stretch out – displaying his famous…
Gotta love this video. It starts out innocently enough with a bit of Jet-style garage rock, then the beat drops and everything goes sideways.

It's over. Improvisational jazz was the last, robot-free area humans had left, and now it's tainted by the machines.
I'm not completely sure what's going on in this clip or where it's even from but it contains a) weird and crazy bicycles, b) jazzy music, and c) old timeyness—thus, it rules. I'm pretty sure the language is Czech, so if any of you know Czech, please tell me what they're saying! My favorite strange bikes: the really,…
As if 1080p video, full-resolution audio, net connectivity and multi-tuner signal decoding wasn't enough, Toshiba's HD DVD team had even cooked up a system of embedded animatronic control before the format was put out of its misery. In this video left over from CES 2008, this little mechanical jazz band playing the…