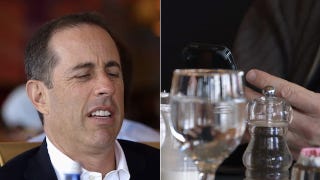 Even though it's unclear when Google Wallet will officially debut, Google decided to jump back to 1998 to give George a lesson in why wallets are a thing of the past. You can hear Larry Page's cruel laughter in the background.
Sadly, obsolete gadgets have to be replaced. Happily, change is good. This is what happened to Jerry Seinfeld's ever-present classic Macintosh which, after all these years, has been replaced by a new iMac.
Phase 2
of Microsoft's Windows ad campaign debuted tonight during , and the latest work by ad agency Crispin, Porter + Bogusky definitely beats the crap out of those () Gates/Seinfeld ads when it comes to . The point is simple: Not all PC users look like John Hodgman. Some are even sexy beasts. It's easy to spot…
From a trusted Crispin Porter + Bogusky source, we've learned that some sites have jumped the gun and that the Microsoft Gates/Seinfeld ads have not been axed. It's true, Microsoft apparently asked the agency to focus on the new "
I'm a PC
" spots. And it's true, the agency has gotten plenty of "" response in their…
Alas, the Abbott and Costello-esque
partnership
between is now officially over, after Microsoft decided to go with a slightly less ambiguous advertising campaign. (, contrary to what's floating around the internet tonight about pulled Seinfeld ads.) In their place is a direct shot at those Apple "I'm a Mac" ads,…
Remember that first Seinfeld-and-Gates
adventure into Shoe Circus
, which alluded to something about Windows being "soft and chewy and delicious?" Well, the new Laural and Hardy of ambiguous advertising have a new spot out and it's... making fun of your average scalloped potato-eating, leather giraffe from…
Besides the slick and probably expensive editing designed to make Jerry Seinfeld look like the more awkward of the pair, there's not a whole lot of special effects in this clip. In fact, there's not really a whole lot of anything, including laughs, information or pimping of Vista. It's kinda like Seinfeld's really…
Microsoft is going to start a new $300 million advertising blitz to try to regain some of the street credibility they have been losing over all these years. The campaign is built around the idea that "Windows breaks down barriers that prevent people and ideas from connecting." Sounds like corporate PR-puffing, but…