Sunday was supposed to be all about the Oscars on Jimmy Kimmel Live but, really, it was all about Batman v Superman. The host had Ben Affleck on to talk about the movie, premiered a new clip, and showed this special "deleted scene" from the film.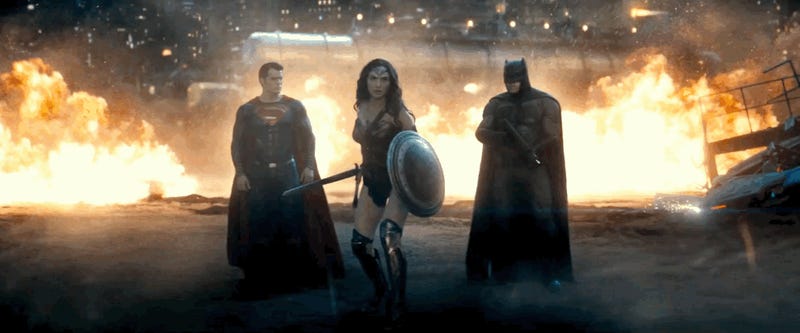 So that happened. After years of intense secrecy around Batman v Superman: Dawn of Justice, the latest trailer went from 0 to 100 in terms of spoilers. Not only did the trailer show the reveal of Wonder Woman, but it even introduced the film's big bad guy: Doomsday. Here's what we learned.
Can modern day magic ever really be "cool" again? The art form has been pretty brutalized by folks like Criss Angel and David Blaine, and yet Hollywood still thinks they can presto-changeo modern perception into some kind of "Oceans 11 with magic" movie with the upcoming Now You See Me. But can it work?
Jesse Eisenberg plays Zombieland's paranoid shut-in, forced to evacuate his little apartment when the world is over-run with zombies. We got the chance to chat with this unlikely hero and learn about zombie safety — and end-of-the-world etiquette.
Woody Harrelson and Jesse Eisenberg are back with more offbeat tips for surviving the zombie apocalypse. In four new promos, they explain how to take down zombies with household items, the zombie herding instinct, and the importance of paper towels.
In the latest promo for zombie comedy Zombieland, Woody Harrelson and Jesse Eisenberg answer fan mail and teach you their tips for surviving the zombie apocalypse, including the most efficient way to kill a zombie with a bowling ball.
The latest trailer for the fast-paced and funny Zombieland shows off Woody Harrelson's zombie-killing chops, and offers clues to what this undead road movie is all about. Plus, we get our first good look at gun-toting, carjacking Emma Stone.