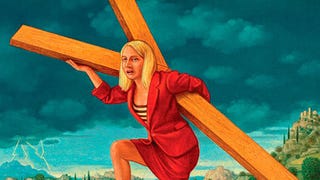 Late on Monday afternoon, Variety co-editor-in-chief Andrew Wallenstein sent a tweet out into the world. This wouldn't be a particularly noteworthy action, except that it included an image of what appears to be Variety's upcoming cover, depicting Marissa Mayer as a Christ-like figure carrying a Y-shaped cross. What?…
Montreal-based production house 1one Production specializes in bringing marketing stunts to life. So when they decided to make a self-promotion commercial they thought "what would've happened if Jesus had a marketing team to orchestrate his miraculous and popular stunts?" Well, this is what:
The original Robocop, released in 1987 and directed by Paul Verhoeven, was not only one of the best science fiction films of the last three decades—"a brilliant comedy operating in the guise of an ultraviolent action movie," as Tom Scocca described it on Gawker—it was also a Christian allegory. At least according to…
A discount clothing chain for young women is again being mocked for its endless offerings of Jesus-themed young women's casual fashion. This chain is owned by fundamentalist Christians, but instead of only selling burqas they just put ridiculous cross shapes on all their tacky clothes. Can you name this horrid store?
Here's a new relic for all you amateur Indiana Joneses to instigate Nepalese bar brawls over. Explains the University of California of this odd 1440 tableau, it's "from the Book of Hours of Catherine of Clèves, containing the prayers and litanies of the Mass in Latin, decorated with 157 lavishly colored and gilded…
In the 2,800-person village of Shingō in Japan's Aomori prefecture, you can visit a tourist attraction that earns almost doodlysquat fanfare despite its world-shattering theological ramifications. I am, of course, talking about the grave of Jesus Christ. What, you didn't know that Jesus escaped crucifixion and…
An exceptionally warped site is claiming that James Cameron is, in fact, the Son of God. Read through the author's insane collection of evidence, including claims that Cameron's semen is like manna. Uh, okay. [JC is JC]
It also works in regular browsers if you want to cut down the noise level. Or you could just, you know, poke your eyes out with a stick. [Facebook]
Update: New screencap straight from Chen's iPhone.